As a bookworm myself, I was shocked by the statistic in 2011 that almost a third of children do not own a book, however having worked in schools I believe it to be accurate 🙁
My own eldest, Matthew, had a number of books before he was even born and I read to him every day in the last couple of months of my pregnancy. Anya is desperate to be able to read like her older brother. As a family we sit down every night and share books. Zach has me reading with him all day too!
Our house is teeming with books but nothing beats getting a new one.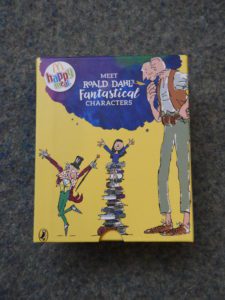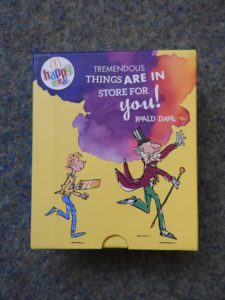 This year

McDonald's

are giving away exclusive books with their Happy Meals. There are 8 to collect and they are centred on the main characters from 3 of the fun, fantastical books of Roald Dahl. The books were launched on 13th September and are available until 17th October.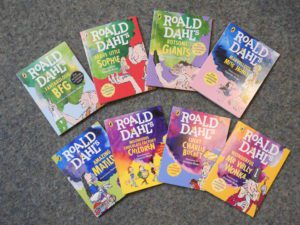 Peter Andre and his family are supporting the campaign to get children reading: watch his

video

to see some of the activities available in the books which will get parents and children enthusiastic about reading.
We went to McDonald's last week for Anya's

birthday

and she was thrilled to receive a new book. What she didn't know was that I actually had the whole set for the children to share and enjoy. Cue some very Happy Readers!
Roald Dahl is one of my favourite authors and I have passed my love of his books on to my children. Together we have read The Witches, The BFG, Matilda and plan to read the rest soon!
The Happy Readers books contains excerpts from Dahl's books plus a range of activities including dot to dot, spot the difference, comprehension questions, stickers and a bookmark. The whole concept is to make reading fun and interactive. Parents play an essential role in inspiring children to read even when independent reading has become established.
Head on over to McDonald's to build your book collection!
*This post has been sponsored but I have full editorial control so all words, pictures and opinions are my own.