I am not a dedicated follower of fashion. My mum wardrobe is basically jeans and t shirt for summer and jeans and jumper for winter.
Last year I made more of an effort as the kids were older so snot, wee and poo were less likely to provide accessories (less likely, not impossible, thanks a bunch, kids!) and this year I felt ready to take on the big trend from last year: jumpsuits.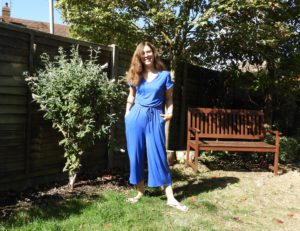 I bought mine from Sainsbury's Tu range. I tend to avoid full length trousers from that brand as I am quite short so they are usually too long. This jumpsuit is cropped length so I was confident that the fit would be perfect.

The jumpsuit was really comfortable as well as fitting nicely where it was supposed to. I will definitely be on the look out for more next summer. I don't think it is a winter item as you have to climb almost completely out of it to visit the loo and this would NOT be nice in the cold!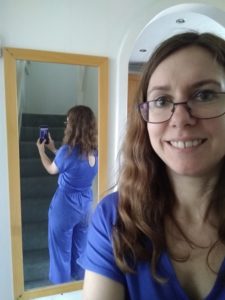 The thing that had put me off was the potential difficulty of going to the toilet. So how easy was it in reality…?
The neck was wide so easy to wriggle out of. I can't imagine wearing this out and about and having it bunched around my ankles in a public toilet, especially as I'm often joined by up to 3 children and space to manoeuvre is at a premium!
So what do you think? Have you embraced the jumpsuit trend?