So there is a viral video on TikTok showing an American woman making a British cup of tea. Except it isn't. She uses a microwave to make a tepid revolting travesty that does not even begin to equate to the Great British cuppa.
Matthew is now 10 so I decided it was time to teach him how to make tea. If you want to join him then you will need a cup, a tea bag, a kettle with water, milk and sugar to taste, and a teaspoon.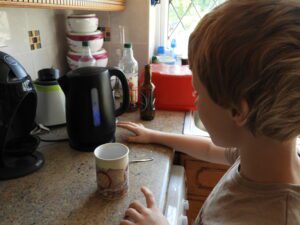 Boil water in a kettle (only boil the amount required to save energy) Do not use a microwave!

Put tea bag in cup and when kettle has switched off, pour water into cup

Leave the tea to brew for 3 minutes.

Dunk the tea bag with a spoon and then squidge against the side of the cup to maximise flavour before removing

Add milk and sugar to taste. I'm vegan so no longer use milk, and haven't had sugar in drinks since I started work as a dental nurse 18 years ago.

Leave to cool for 5-10 minutes depending on personal preference and then drink and enjoy!
I even captured Matthew's first attempt on video: