I spend the majority of my life with an elderly gentleman. His name is Ollie.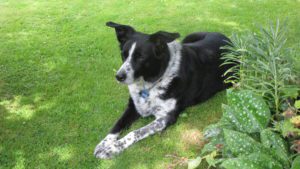 I am not a dog lover and am actually not keen on animals at all (which is why I'm vegetarian). I do love Ollie though and I honestly never thought I would say that about a dog. He is with me all day. He is with my during the evenings and into the night while I am sat here typing away.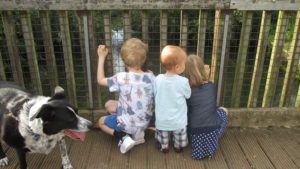 This is a post about a neighbour's dog. One that for the past 3 weeks has been roaming our street while the owners are having building work done. I had seen the dog around but thought it belonged to the builders themselves as it was at with them while they worked out front.
Last week however, Chris was home and spotted a lost dog in our garden. He went out to check on it and it had no collar. He came back in to fetch an old collar and lead of Ollie's while he waited for the owner to appear (we live near a field where dogs are walked so he thought it might have come from there and the owner wouldn't be far behind).
I popped upstairs to see if I could see anyone looking for a dog and recognised the dog so shouted out of the window that it belonged with the builders further up the road. Chris turned back to the dog to find it had raced into the road into the path of a lorry.
Screeching brakes and thankfully a safe dog: Chris managed to call it back to the pavement just in time!
He then persuaded the dog back to the house to be informed by the builders that it was the owners' dog and they had said to let it out during the day. Chris explained it had nearly been run over and pointedly shut the gate.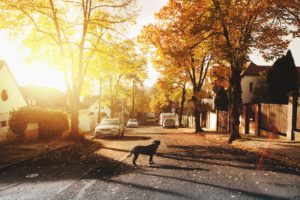 This week I arrived home from work and started reversing onto the drive. I then slammed on the brakes when I saw the dog running about on our driveway. It then ran in circles around my car. I got out and abandoned my car in the middle of the road while shooing the dog a safe distance away.
I was quite shaken. It is the closest I have come to hitting anything with my car. I was nearly responsible for a death.
I dithered for an hour to allow myself to calm down and think through my options.
Clearly the builders and the owners were not taking responsibility for the dog's safety. It had almost run under a vehicle twice that I knew of, but how many other drivers had it scared? Did I want my children to come home from school to find a squashed dog in the road? Where was it going to the toilet? What if it bit someone?
Finally it came down to this: could I live with myself if anything happened to the dog which I could have prevented?
I could have gone to speak to the owners but the thought of a confrontation was terrifying. Instead, I emailed the dog warden and informed them of my concerns. They wrote a letter to the owners reminding them of responsible dog ownership. Their gate is now firmly closed and the dog safely contained.
What a relief!