The cold has definitely set in this week and my car told me it was only 2 degrees yesterday! I was challenged to devise some outfits for winter and here is what I came up with!
Casual day wear
I am a busy mum. I need comfortable, practical clothes. I am also a working mum so need to be smart enough to go to work . One of my roles is an exam inviligilator so comfy shoes are a must! I have been on the look out for boots that are suitable for a half hour school run or a 2 hour exam… and I've found them at JD Williams!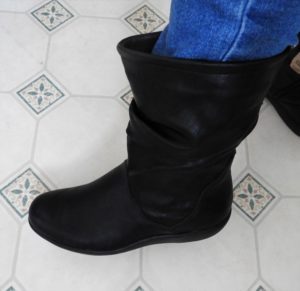 These boots have a cushion insole so are really lovely to wear. They are also sturdy enough to cope with mushy leaves and small puddles (oh the joys of autumn and winter!)
The jumper is pale delicate pink. I got size 8-10 which fitted well. It is thick enough for mild to moderate cold but is also thin enough to be able to layer over or under with cardigans or t shirts.
Stylish evening wear
I don't have any Christmas parties planned (come on people, invite me!) but it is Chris' and my dad's birthdays next month so there will be family parties and maybe a date night as it is the first year Chris willl be a married man on his big day!
I fell in love with this jumper when I saw it on the website. The metallic sparkly tones are gorgeous and perfect for this time of year. I ordered an XS and was surprised when it said it was a size 12-14 on the label but the fit is just what I want!
I teamed this with heeled boots which are just gorgeous! I rarely wear heels due to those pesky kids (love you, babies!) so I instantly felt smarter.
Chris LOVED this outfit and the date for our date is set…
Cosy night wear
I have never been a pyjama type person (willing to try, convince me!). I usually go for something shorter but was drawn to this long length nightie to keep my legs warm. I had to find some matching slippers and these pink ones are soft and comfortable.
Finally I couldn't resist a splash of purple with this huge, warm, snug, brilliant throw! The kids love it too 🙂
I wonder what Black Friday deals will be on offer: have a look here!
*I received these items for the purpose of this review. All opinions are my own.