The words that came to mind while reading this book are classic and epic. I really enjoyed reading this introduction to Jorie and her adventures. The style and content reminds me quite a lot of the Chronicles of Narnia series which were some of my favourite books when I was growing up (and still are today!).
Originally I thought the book was a little old fashioned but that isn't a criticism: I would now change that description to 'timeless'. It has all the makings of a classic that can span generations in the same way as the Narnia books.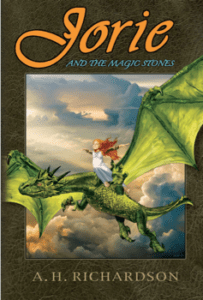 Jorie is a little girl sent to live in a remote part of Scotland with her great aunt. She meets Rufus who lives close by and they explore the local area and develop a fascination with a tarn. Jorie finds a book with magic words and is transported to a magical world of dragons and adventure where she needs to find special stones in order to thwart the plans of Lord Fodomalk.
Jorie is a fantastic lead character, brave and inspiring whilst also kind. The interesting folk she meets on her journey will be loved by children and it will fire their imaginations trying to visualise them.
The book is not particularly scary so younger children would enjoy having this read to them. I think Matthew (aged 7) may be a little too young to read this alone confidently but 9 year olds should have no difficulty with the vocabulary or comprehension.
I would score this book 5/5. It took me back to my own childhood reading but I also loved it in its own right. I hope to read more in the series and follow more of Jorie's adventures.
The publishers have kindly offered to send a copy of Jorie and the Magic Stones to one of my readers. Enter the competition below for your chance to win!
Win a copy of 'Jorie and the Magic Stones' by AH Richardson

If you can't wait to read the book then here is the link for it on Amazon:
[amazon_link asins='0692358927′ template='ProductCarousel' store='tiredmummyblog-21′ marketplace='UK' link_id='026ba06d-c551-11e7-9a57-39a1a7f82148′]
*I was sent a copy of the book for the purpose of this review. All opinions remain my own.