You may have spotted on #Project365 that we headed to the Kent coast this weekend and had masses of fun at the beach. I got a chance to try out my new swimwear: a bikini from Simply Beach!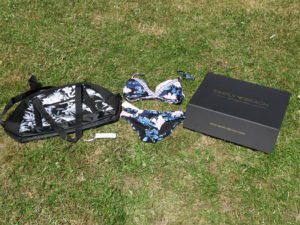 It was the first time I'd worn a bikini since having my 3 children so I was a little self conscious to start with but I soon relaxed and got on with being a mum larking around in the water and making the most of a lovely hot sunny day.
The Simply Beach swimwear collection has so many different styles to suit every body shape and size.
I chose the Seafolly Moonflower Midnight wrap around

bikini top

and ruched sides bottom. The pattern of blue and pink against the black is very pretty. The wrap around feature on the top is a lovely added extra detail. The straps can be worn straight as I wore them or can cross over at the back. The top has removable padding to boost your bust!
I also received a gorgeous Seafolly overnighter bag, perfect for fitting all of our beach essentials in as well as Zach's nappy paraphernalia! The bag has a striking black and white design with an elegant tropical design. It has a pocket inside and one outside for keeping items separate. The bag has handles as well as a shoulder strap.
The bikini and bag are just fab and the element of versatility with the straps on both and the bust pads on the bikini shows the quality of the designs.
I have been given a healthy dose of body confidence, got about a week's worth of Vitamin D and felt super stylish. Thank you Simply Beach!
*I was sent the bikini and bag for the purpose of this review. All opinions and photos are my own.