It is darkest winter. Well, almost anyway! Definitely hat season…
The latest accessory is these gorgeous hats from Bright Eyes. Cute and fun designs that will keep your head warm while you are out and about in the cold.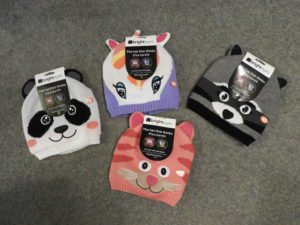 But wait, there's more to Bright Eyes than just fun design and keeping your head and ears cosy: switch the battery pack on and press the button and the eyes light up!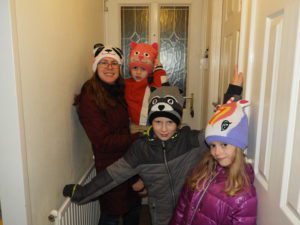 These are a great safety feature as they would help you be seen out in the dark and help to identify your children quickly in a Bonfire night crowd or Christmas carolling group, or even simply walking the dog at night.
The LED lights are small but bright, acting like a torch so that you can see a bit better in the dark, but also allowing others to see you easily.
The hats are big enough to fit my head but I'm not sure that they would have fitted my husband, although they are obviously aimed at children. I would love to see some more designs produced, maybe a robot or dinosaur.
Bright Eyes hats have an RRP starting from £17.95 which is more than reasonable considering the alternative cost of kitting out all of us with hats and separate torches, plus there is no chance of dropping and smashing an expensive torch and they are always pointing the right way!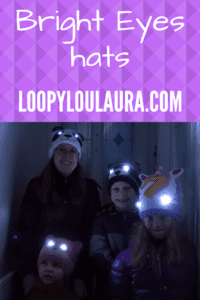 *We were sent these Bright Eyes hats for the purpose of this review. All opinions and photos are my own