My family love crumble and luckily the gluten free version is almost identical to the 'normal' one. The topping is a little drier as gluten free flour absorbs more liquid, but I find that cream or ice cream as an accompaniment is a great way to add moisture.
I cheat by using tinned fruit pie filling. It means the whole thing can be prepared in under 5 minutes!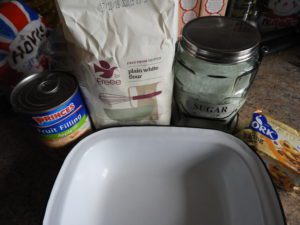 If you use fresh apples then you need to add some water and sugar to the filling. I like to vary the flavours by adding some cinnamon, sultanas or dried cranberries, or trying a different fruit entirely!
Ingredients
1 tin apple pie filling
4oz gluten free flour
2oz butter or hard margarine
2 oz granulated sugar

Method
Rub the butter/marge into the flour.
Stir in the sugar.
Put filling into dish and cover with topping.
Bake for 30-40 minutes GM7 or until the top is a golden brown
This serves 4-5 people. It used to be the perfect amount for us but now Zach needs a full sized portion so I need to increase the quantities!