Please note the oats I used were the ones in my cupboard. They were not gluten free but were wheat free! Gluten free oats are available in supermarkets and online if required.
My flapjacks always end up as muesli. They always just disintegrate and I usually end up having to eat it with a spoon. This recipe is one I haven't tried before and it was more successful! Although I did take it out of the tin to cut it and I shouldn't have done as it started to crumble 🙁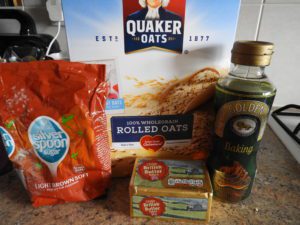 Ingredients
6oz butter
6oz golden syrup
2 oz light brown sugar
10 oz oats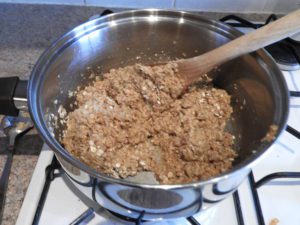 Method
Put the butter, sugar and syrup in a saucepan over a low heat until the butter is melted and the sugar has dissolved.
Remove from the heat and stir in the oats.
Press down into a tin (20cm square should be fine)
Bake for 25-30 minutes at GM5
Allow to cool for 5 minutes then mark out the squares, DO NOT remove from tin until fully cool.
Once cool, cut into squares and eat!