OMG this is incredible! I can't begin to tell you how good this was!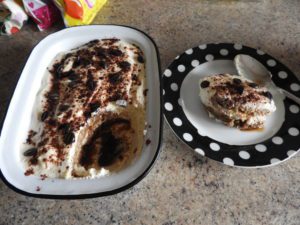 As a child, I adored sponge fingers but – as with so many gluten free options – they are so expensive to buy if you can even find them 🙁 The sponge in this tiramisu resembles the sponge fingers of my youth, yay!
Mine was drowned in coffee because the first piece of sponge absorbed all of the liquid before I could scoop it out. The kids loved it even with the strong coffee flavour, yay and also boo for having to share…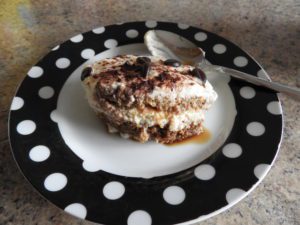 Ingredients
For the sponge
1 egg separated
25g caster sugar
25g plain flour and half a teaspoon baking powder
For the mascarpone cream
2 eggs, separated
25g icing sugar
200g mascarpone or cream cheese
1 tsp vanilla extract
200ml strong coffee cooled (you may not need it all)
cocoa to sprinkle on top (and I also used cocoa coffee beans)
 
Method
For the sponge: whisk the egg whites until stiff.
In another bowl, beat together the egg yolk and sugar.
Add a little of the egg white to loosen the mix, then fold in half of the flour, then half of the egg white. Repeat so all is combined.
Pour into the tin (I used 20cm square) and bake for 20 minutes at GM5.
Remove from the tin and leave to cool on a wire rack.
To make the mascarpone cream, beat the egg whites until stiff.
In another bowl, beat the egg yolks with the icing sugar until creamy.
Add the cream cheese and vanilla and beat until smooth.
Fold in half of the egg whites and then the other half.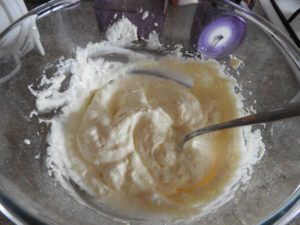 Put a thin layer of the cream at the bottom of the dish.
Cut the sponge into pieces (I cut into 4).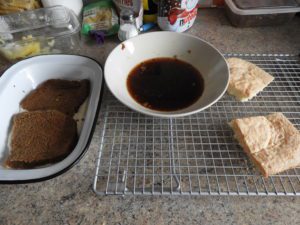 Dip pieces of sponge into the coffee and put into the dish. Top with a layer of cream and repeat.
Sprinkle with cocoa powder and refrigerate for a minimum of 2 hours then eat!