As promised in My Sunday Photo post this week, here is Matt's biscuit recipe. I am so impressed by them: they are crisp and crunchy with a subtle flavour from the almonds.
Ingredients
4oz SR flour
3oz butter or margarine
3oz caster sugar
3oz ground almonds
splash of water
extra flour for rolling out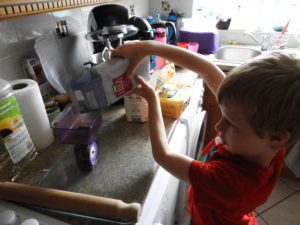 Method
Rub the butter/marge into the flour and almonds until it resembles breadcrumbs (I did this in my stand mixer)
Stir in the sugar. Add a little water to help b ring the dough together (I used gluten free flour which needs extra liquid)
Roll out the dough to half a centimetre thickness and cut out shapes.
Bake at GM4 for 10-15 minutes

The biscuits do spread a little so make sure there is space between them.
Allow to cool and enjoy!