I have been hankering after a chilli for a couple of weeks so finally got around to making one!
Serves 4-6 (depending on appetite!)
Ingredients
half an onion
300g frozen Quorn mince
1 jar Uncle Ben's chilli sauce (I used the hot one)
400g can kidney beans, drained and rinsed
400g tin chopped tomatoes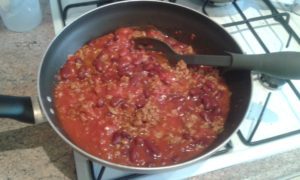 Method
Fry the onion and Quorn mince for 5 minutes

Stir in the chilli sauce, tomatoes and kidney beans

Bring to the boil and simmer for 15 minutes, stirring occasionally.

Dish up!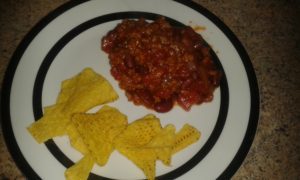 The first night I served this with tortilla chips. I usually grate some Cheddar on top but forgot this time! 🙁
The next day I made a cottage pie style dish with a serving of the chilli covered with mashed potatoes and a cheese top. Mmmm yum!
I have portions left in the freezer so more meals, yay! I guess some plain boiled rice might be next, or maybe try enchiladas as I have some leftover wheat free wraps…