Last year I bought some blueberry, blackcurrant and raspberry bushes as I love baking with fresh fruit. Finally they are producing and we have had a good harvest so far! The kids get involved and love picking them each day.
But then the panic of 'what can I cook NOW' as the numbers start to build up 🙂
Simple cakes with blueberries added and here is the recipe: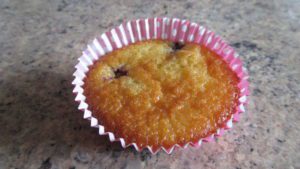 120g soft marge
120g caster sugar
2 eggs
120g SR flour (I used gluten free)
vanilla extract
splash of milk
blueberries
Method
1. Preheat the oven to GM5 and set out 16 cake cases (it helps if you have an assistant!)

2. Cream together the marge, sugar and eggs with an electric whisk for about 2 minutes
3. Fold in the flour and add some vanilla extract to taste and a splash of milk if required to loosen the mix
4. Either fold in the blueberries or put a few in each cake case
5. Bake for 15 minutes then allow to cool on a rack
6. Eat!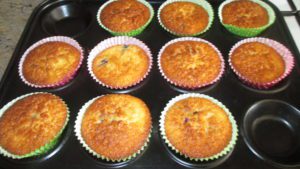 Please note: I mixed the blueberries in and then had complaints from Anya then she only had 1 in her cake while we all had 4 or 5. Now I know why my mum always very carefully allocated 7 chocolate chips per cake! Lesson learned, Mum!