Become the sumo champion with Belly Bashimi! Use the inflatable tum to bash your opponent out of the ring.
The game comes with 2 inflatable bellies with velcro straps, a contest ring, sushi counters and a spinner.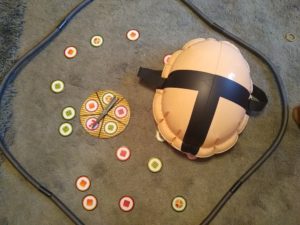 The game works best with players of a similar height so that the bellies bounce against each other. The strap was not tight enough for Zach and a little too tight for Chris.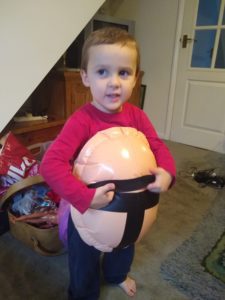 To start playing, simply construct the ring (we only used 4 of the 6 pieces to make it easier for the children to reach each other) and then scatter the sushi pieces. Spin the spinner and decide where to place your feet then get bashing those bellies!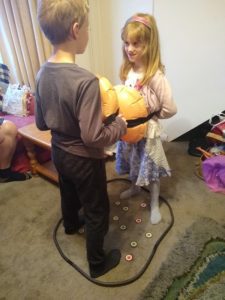 This is a very physical game and care should be taken to clear the playing area in case anyone falls over. The kids had lots of fun playing this and were very competitive! The inflatable bellies seem very sturdy and I believe they would survive many bash battles!
The bellies were easy to deflate afterwards and all packed away easily in the box, ready to store or travel (we had taken ours to my mother in law's).
Belly Bashimi is aimed at players over 7, and is available from Very and other retailers with an RRP of £17.99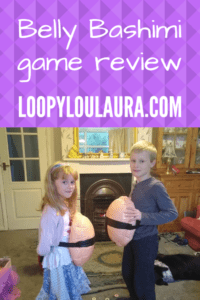 *We were sent this game for the purpose of this review. All opinions are our own