*We received these items for the purpose of this review. All opinions and photos are my own.
Ben Tennyson is an ordinary boy until he finds the Omnitrix which gives him the DNA from 10 different types of alien (hence the name Ben 10 from his surname and his hero powers)
The Ben 10 cartoon series has now been around for 15 years and the brand is still as popular as ever. The latest toys include action figures, so you can reenact your favourite scenes or create your own adventures, and also the Omnitrix so you can transform too!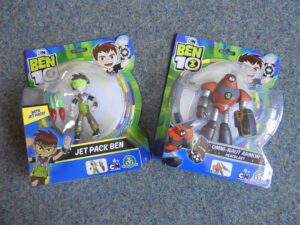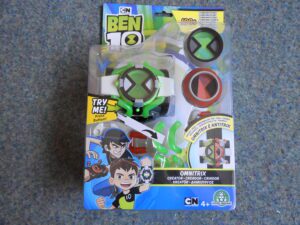 We were sent the Jet Pack Ben 10 figure as well as one of the aliens he can become: Heatblast in space armour. I was both surprised and impressed by the articulation of the figures. The arms and legs could rotate and flex.

The boys had lots of fun together playing with the figures despite not having a great knowledge of the characters. Zach enjoyed the jet pack potential for zooming round space while Matthew liked the fire power of Heatblast's armour.

The other item we were sent is the Omnitrix Creator Set. This looks like a watch and has a a sturdy plastic strap to fasten. The set contains detachable elements so you can design your own Omnitrix and there are over 100 combinations!

The main dial has 3 options and there are various decorative pieces to arrange. The Omnitrix has lights and sound! The different dials create different flashing light and sound patterns and also has key Ben 10 phrases.

Th action figures have an RRP of £9.99 each and the Omnitrix Creator Set is £29,99: both are available from Smyths. The toys are aimed at children aged 4 and over due to the small parts.
There is currently a Ben 10 competition running, so head over to www.evolutioncomps.co.uk/Ben10 to find out more about the range of toys as well as enter the competition: good luck!