AD GIFTED We were sent this toy for the purpose of this review. All opinions and photos are my own
It's the summer holiday and we are treading the fine line between boredom and screen time! We were therefore delighted to be sent the 62 piece set of Connetix Tiles (find out more here.)
Connetix Tiles are a STEM/STEAM toy that uses magnets and shapes for construction. The box is very heavy and I was surprised by the large size and good quality of the pieces as I unpacked. The colours are bright and bold in this rainbow pack, and the contoured pieces are easy to grip.
I couldn't resist having a little try myself before letting Zach loose on them! I began by making a pretty pattern/design and then realised I could make it into a 3D shape. The magnets hold the pieces in place perfectly.
Next was Zach's opportunity to play. He looked through the inspiration book and adapted a house structure to his own design. I liked the way that he had to use problem solving skills and spatial awareness to work out how to fit the pieces together to make his house.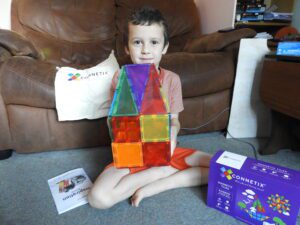 The house was strong and stable enough to lift. Zach was super proud of his creation and enjoyed looking in the book for more inspiration to keep building. The only limit is your own imagination…
Connetix Tiles 62 piece Rainbow pack has an RRP of £65 and is suitable for children aged 3+. Other sets have transport specific pieces or pastel shades to encourage additional play opportunities. Once you have finished playing, the pieces can be returned to the box or stored in the drawstring bag provided.