We were kindly sent the Foam Alive Double Flip Pack containing two colours of foam (Purple Pulse and Lava Lime) to try out over the Christmas holidays. The colours are bright and vibrant, suitable for boys and girls.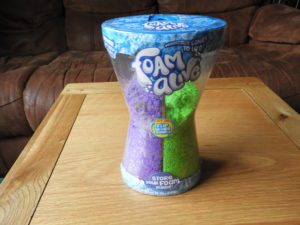 The hourglass container allows the Foam Alive to react naturally to gravity. It also fluffs up as it aerates. Watching it gradually fall can be quite addictive…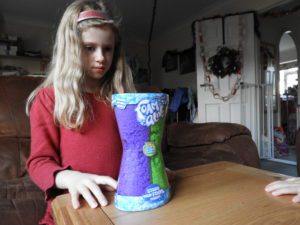 Outside the container the foam is ever so soft and fluffy. It can be molded but also trickles through your fingers. I took loads of photos but there was so much movement from the foam and excitement from the children that I can only share a few of them with you!
Can you see the face Anya made? Eyelashes as well!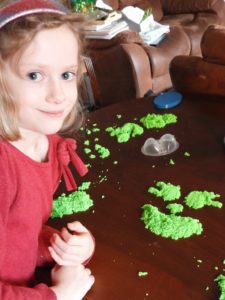 Foam Alive is easy to clear up and can then be stored in the hourglass container. The foam can be scooped into a pile to put away and any that falls on the floor can be easily vacuumed up. I admit to not normally being a fan of toys like this and usually confine it to the bathroom but this was so easy to clear away that it has converted me to a fan!
The Foam Alive Double Flip Pack is aimed at children aged 5 and over, and has an RRP of £10. Take a look at the range here.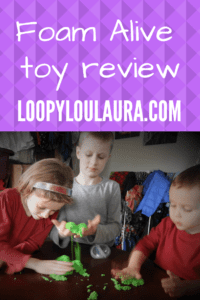 *We were sent this toy for the purpose of this review. All opinions are my own