*We were sent these toys for the purpose of this review
There is a cool new collectable released this summer: meet the Action Heroes! We received the huuuuuge SWAT Truck as well as two smaller sets with extra characters to expand the options for imaginative play.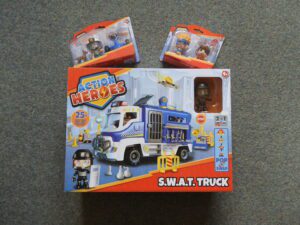 The figures have so much play potential as they can be split into parts (head, torso, legs) to mix and match. Each head has two faces so that a range of emotions, expressions and scenarios can be enacted. The characters all come with related accessories which fit into the hands for posed play.
The only limit is your imagination as there are so many different ways to assemble the figures to suit your play. There are also a range of vehicles included in both the bigger and smaller sets.
The SWAT Truck set has an RRP of £36.99 It contains over 25 pieces and I loved how parts of the truck opened up for play as well as storage. The driver can be steadied in the cab by using a stud to place the figure. There are stickers to apply but Zach was too keen to start playing!

The police character set has a Segway type vehicle and again a stud is used to affix the character. The accessories included handcuffs and riot gear. The superhero and sports hero set also have a range of accessories to increase the play potential.
The characters all work well together to spark imagination and encourage cooperative and extended play opportunities. As I've already mentioned, the faces and body elements can all be swapped around to create new play ideas. But the police theme was definitely popular in our home.
The sets are good value for money thanks to the wealth of accessories with each set. The collection is aimed at children aged 4 and over and I think this is age appropriate in terms of content and size. The characters fitted perfectly into Zach's 6 year old hands and he was able to pose the characters with the vehicles and accessories.. The Action Heroes range was created by Flair and is available from retailers online and instore.