Time for an attempt at baking a cake! I tried out a chocolate orange cake using oil instead of egg and margarine/butter. The consistency was quite dense and it was quite like a madeira cake.

The flavour was good but there was a slightly unusual aftertaste. I happily ate it though and was pleased with my first ever vegan cake!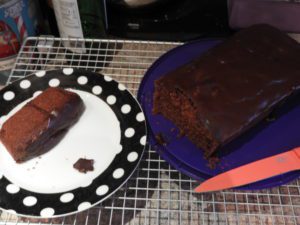 Meals on day 16 were garlic baguette (I love it when my regular foods are vegan!) and then stonkingly good vegan nuggets from M&S. These were sooooo good and I haven't had anything resembling chicken nuggets in over 20 years so was stunned at how good they were plus they had a wheat free crumb: FABULOUS!!! Again the onion rings and beans are regulars in my diet, yay!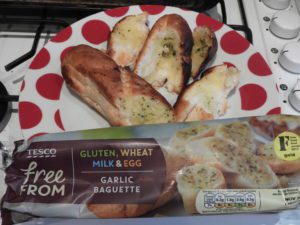 Tried out this ready meal from Co Op. I won't be getting it again: the butternut squash was quite tough and it can't be frozen so can't be kept for long 🙁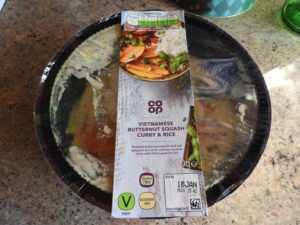 A different type of vegan sausage from Sainsburys (their range really is good)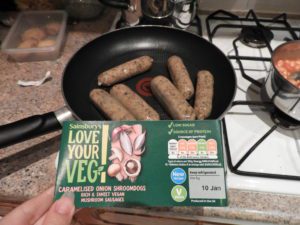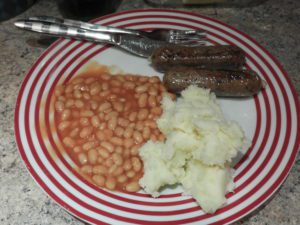 My first ever try of jackfruit which is a VERY big thing in the vegan world. Again, I'm not sure I will try this again as it can't be frozen so isn't too convenient. The taste was ok but sometime there was an overwhelming flavour of aniseed which I personally don't enjoy.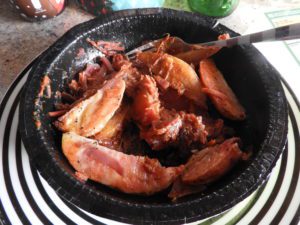 Dinner was leftover sausages converted into a sausage stew. The kids had their sausages in a stew as well, confimring that I may be able to tempt them to become at least vegetarian if not vegan.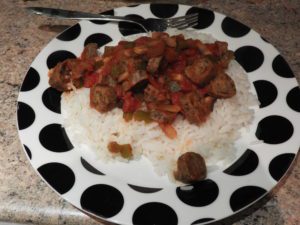 Saturday was a special treat and we ate out at Harvester. I had the vegan peri peri tofu skewers which were absolutely lovely. I think the portion was a little stingy as 3 skewers would have been nice. I am not a fan of peas but the accompaniment was ok. The chips were an add on and definitely required to fill me up (so only a small tea of oat cakes was needed). The salad bar was not clearly labelled with descriptions or allergens to it was difficult to make informed choices 🙁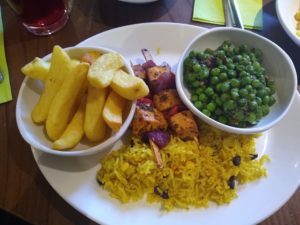 I bought some more vegan toiletries at Superdrug as these were both new ranges that I'd not spotted last time. The scent of the oat and coconut lotion is simply heavenly!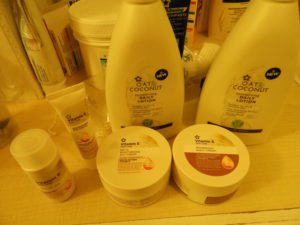 Chris got experimental and used the puff pastry I'd bought. We spread some tomato puree on the pastry and then added vegan ham and mozzarella/cheddar. I used the leftover pastry to make some parmesan pinwheels but these were not overly pleasant when eaten cold.
In the afternoon we settled down to watch a film; yay popcorn is vegan!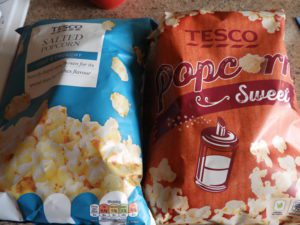 Dinner was pizza using vegan ham as one of the toppings. I am a really big fan of the mozzarella!