Awkward cringiness alert!
Chris and I originally didn't want to have a gift list but my mum was adamant that guests would want to buy us something. It made sense to try to compile a list. The problem is that there are things we need right now such as a linen bin that I'm not sure we can wait another 6 months for!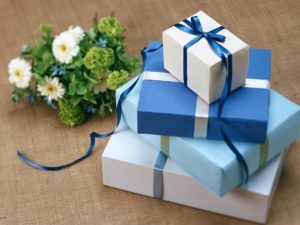 It seems a bit cheeky to me for established (old!) couples like us to ask for things. We don't want to ask for things just for the sake of it. We have a fully operating household so whilst some pans etc would be nice, they aren't a necessity (quick note that Zach has destroyed all of our bakeware while having great fun emptying cupboards…)
I can see the value in creating a list so that there are not duplicate presents. There are some items that just one of us need such as I need a new phone! We are taking care to include items at a range of prices but it really is true that we want our guests' presence not presents!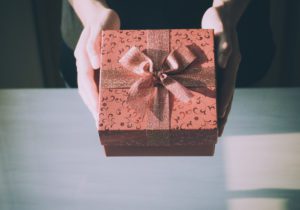 One option that some couples go for is cash towards a honeymoon. We are not going away (well, our wedding night at the local Premier Inn probably doesn't count but it is the site of the restaurant where we first met, awww romantic after all!) and actually have our family holiday booked to get back the weekend before the wedding. We hope to go to Disneyland Paris next year but it seems rude to ask family to fund that.
With gift lists and cash, there is then the process of giving and receiving. Many stores offer home delivery straight to the wedding couple while some guests would prefer to give gifts in person. Accepting cash or cheques can be awkward so some couples now place a postbox in their reception venue for the money to be kept safely.
What did you choose to do for gifts? As a guest, do you despair over the inclusion of a list?