Research shows that amongst couples who choose a traditional wedding, 99% of them go on a honeymoon — it's all part of the wedding experience.
We are not going for a traditional wedding so we don't count in that statistic! We are also not planning to have an official honeymoon due to my fear of flying and because we don't want to leave the kids. We get back from our family holiday in Wales the week before the wedding and don't want another trip quite that quickly! We may opt to have a weekend in Paris at some point later in the year. We do plan to stay in a hotel for our wedding night…
In the UK, the average honeymoon costs just over £3,500. Considering that the average cost of a summer holiday for a family of four costs close to £1,000, its clear to see that couples certainly splash out for their after-wedding vacation.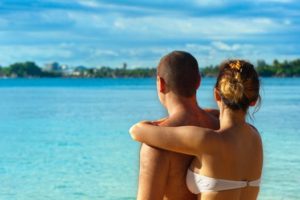 Start the planning process by getting inspiration from friends and family through the internet — an outstanding 80% of honeymooners in the last 5 years used social media to research their ideal destinations.
There's so many things to think of once you've decided on your dream destination, the to-do list only seems to get longer! Here to ease the stress, Angelic Diamonds, retailers of

wedding rings
,

tell us the top luxury honeymoon locations of 2018 and how to perfectly plan your romantic trip there (down to the pound).
Top destinations for 2018
British based luxury travel operator, Kuoni, revealed the top honeymoon destinations based on the number of bookings made. Here they are:
1. Maldives
The Maldives is the nation in South Asia that you've probably always dreamed of travelling to. It's made up of more than 1,000 coral islands and is famous for its sugar-white sand beaches, private islands and luxurious resorts. It oozes magnificence and romance, no wonder it was revealed to be the top honeymoon destination of 2018.
Cost of flight: £474*
Accommodation cost per night:
Budget: £110 – £290
Mid-range: £220+
Top-end: £545+
A must-do:
Visit the Piano Deck at Baros. This is a platform built in the heart of the ocean that can be hired for a few hours for breakfast, lunch, dinner or spa treatments. Why not treat yourselves to a sunrise breakfast for £235?
2. Sri Lanka
Covered ancient sites, temples and never-ending beaches, Sri Lanka has only recently become a tourist destination but it's clear to see why. It has so much to offer, with eight UNESCO sites and many opportunities to have memorable experiences.
Cost of flight: £346*
Accommodation cost per night:
Budget: £10 – £17
Mid-range: £17 – £42
Top-end: £42+
A must-do:
Hike to World's End — a sheer cliff situated in Horton Plains National Park which looks over tiny villages and tea plantations. The round trip is around 7.5km by foot, and many say that you won't regret it (and it costs under £20).
3. Mauritius
Situated in the Indian Ocean, Mauritius is synonymous with everything luxurious. There's plenty to do in the way of activities but, of course, you can lie on the beautiful beaches all day if you'd prefer — take your pick…
Cost of flight: £369*
Accommodation cost per night:
Budget: £35 – £66
Mid-range: £70 – £133
Top-end: £133+
A must-do:
Visit the Chamarel Waterfall. Surround yourself with luscious vegetation instead of the sandy beaches you may have become accustomed to and explore the southern side of the island.
4. Thailand
Behind the Maldives, Kuoni named Thailand the second most popular honeymoon destination for LGBT couples and fourth for straight newlyweds. It's become popular with backpackers over the past decade but that doesn't mean it's not full of hidden gems and romantic spots.
Cost of flight: £279*
Accommodation cost per night:
Budget: £13 – £23
Mid-range: £23 – £91
Top-end: £91+
A must-do:
Explore the Phi Phi islands. Considered to be some of the most beautiful islands in Southeast Asia, you can reach them by a short speedboat journey from Phuket or Krabi. Discover true paradise and turquoise-blue waters with your partner.
5. Indonesia (Bali)
In Bali, you'll experience the locals' unforgettable culture combined with beautiful landscapes. The people are friendly and the beaches are one-of-a-kind — we're not surprised it made it into the top five.
Cost of flight: £345*
Accommodation cost per night:
Budget: less than £36
Mid-range: £36 – £109
Top-end: £109+
A must-do:
Visit the Gili Islands by sea. Take the fast boat over from Bali to the islands and sit on the famous Datu Swing at Hotel Ombak Sunset with your loved one as the sun goes down.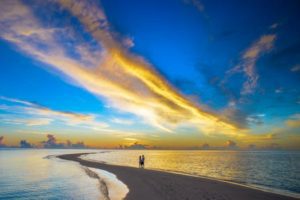 Once you're all booked up, all that is left to do is get married and pack your suitcase!
Make sure you budget for the following — according to one survey on wedding couples these are the items most likely to be bought before honeymoon travel:
• New wardrobe (70.1%)
• Swimsuit (69.9%)
• Sunglasses (69.9%)
Perfect reason to go shopping… have fun!
*At time of research. Based on cheapest month to fly and cheapest return.
Sources
https://www.skyscanner.net
https://www.lonelyplanet.com/maldives/a/nar-gr/money-and-costs/357011
https://www.lonelyplanet.com/sri-lanka/a/nar-gr/money-and-costs/357442
http://www.dive-the-world.com/reefs-and-parks-maldives-hanifaru.php
http://www.baros.com/wp-content/uploads/2015/06/Piano-Dinners.pdf
https://www.undiscoveredguide.com/sri-lanka/nuwara-eliya/worlds-end
http://www.thisismoney.co.uk/money/bills/article-4596054/Could-slash-cost-summer-holiday.html
http://www.phiphi.phuket.com/#
http://www.kuoni.co.uk/upload/misc/pdf/honeymoon%20trends%202017.pdf
https://www.tripsavvy.com/wedding-statistics-and-honeymoon-facts-1860546
https://www.hitched.co.uk/wedding-planning/organising-and-planning/wedding-survey-2016_1193.htm
*Collaborative post