Wedding Wednesday will take a break for April as I am taking part in the A-Z Challenge (still finalising the topic, PANIC!)
Back to today though and I am looking at the meaning behind the traditional phrase 'something old, something new, something borrowed, something blue'. I didn't realise that there is actually a final item which is often left off these days: 'and a silver sixpence in her shoe'.
Something old and new are to represent the future and the past. It is also to confuse evil spirits! I think it is important to honour the past as well as look forward to the happy changes ahead.
The something borrowed is traditionally supposed to be an item from a happily married person so that their good luck transfers to the new couple.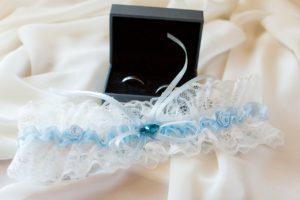 Something blue refers to love's purity (I guess this is why the Virgin Mary is often in blue in nativity plays!) and fidelity.
The silver sixpence was to wish the couple prosperity in their future together. Some modern brides have a coin in their shoe but a 20p coin doesn't quite sound as good as silver sixpence 🙂
I think I will be keeping these traditions even though I am not superstitious. They are small details that can be worked into a wedding no matter the size and the rhyme remains popular in our culture. I expect Meghan Markle will follow them too (the Duchess of Cambridge did!)