Shamefacedly, I must admit that I haven't taken the kids to Father Christmas. I did take Matt along to the local children's centre for his

first Christmas

and he screamed the place down…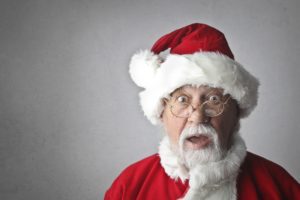 The children do take part in the Santa sleigh charity collection for the Scout group so have had their pics taken with the man behind the presents, and Zach goes out to see him when he visits our street on the rounds.
I don't remember seeing Father Christmas myself as a child. There was one year that we were supposed to go to see him at the Watercress Line but my mum and I both had flu and were stuck in bed! My dad took my sister along 🙁
I think it is because I never went I don't see it as important to take my own children along. But maybe I'm being a Scrooge yet again.
Do you make a visit to Father Christmas every year?