As I am behind on my posts, I can tell you who I spent Christmas with instead of plan implied in the title!
For me, Christmas is all about family. I can't imagine not spending at least part of the day with my parents. This year for the first time, we went to a Christingle service on Christmas Eve and I think I would like to go to a carol service in future years.
My parents went to my sister's for lunch and then over to us for tea and to enjoy the latest Julia Donaldon adaptation.
I pointed out to my children that I don't get to spend Christmas with my sister now we are grown up and have our own families. I don't think either of us could cope with the stress of 5 over-excited children plus catering for everyone (including me and my awkward dietary needs-set to get more difficuly when I go vegan!)
Family obviously includes our wonderful Ollie who loved his squeaky sprout toy! The kids love it too…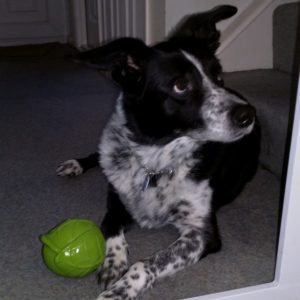 This year we also had Chris' mum come to stay with us and her dog Jess. We had Jess to stay last Christmas as well as Penny was in hospital but thankfully this year was a planned festive visit!
Who do you usually spend Christmas with?