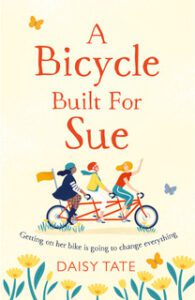 TRIGGER WARNING: this book deals with the aftermath of suicide.
Sue is a 111 call handler, her days are varied and often comical. But one day she is the one to call, after she arrives home to find her husband has committed suicide. Flo is in her 70s and determined that life should still be full of adventures yet her husband wants a peaceful retirement. Raven is taking a gap year before university, battling against her parents' expectations of being a lawyer. Kath is one half of a celbrity couple who is growing increasingly unhappy with her insensitive husband.
Together the women challenge themselves to complete a charity cycle ride. Can they overcome more than just the miles…?
A Bicycle Built For Sue is an uplifting but often heartbreaking book to read. Humour and love radiate from the pages but so do loss and grief. There is such warmth in the style of writing and I enjoyed the transcripts of the 111 calls which were full of pathos as well as being funny.
The characters are all down to earth and very likeable so it is easy to identify with them and want them to find happiness despite the despair they are facing. I think it is clever that the author Daisy Tate chose women from different age ranges to appeal to multiple audiences, and I could certainly see a little of myself in all of the four lead characters.
Some serious issues are dealt with over the course of the book but they are handled sensitively. There is an honesty and realism about the events and characters that engages us as readers but this is softened by the gentle humour.
The bravery of the main four women comes to the fore as they struggle to complete the cycle ride and find out some home truths along the way. Their realisation about their lives, loves and opportunities, and the subsequent drive to make positive changes did make my eyes glisten by the end.
A Bicycle Built For Sue is the first book I have read by Daisy Tate but certainly won't be the last!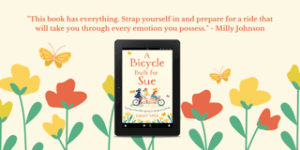 A Bicycle Built For Sue book blurb
Sue Young has never asked for much apart from a quiet life. She's always been happy with her call centre job and dinner on the table at six o clock; that was until a tragedy tore her tranquility into little shreds.
With her life in tatters, Sue is persuaded to join a charity cycle ride led by Morning TV's Kath Fuller, who is having a crisis of her own, and Sue's self-appointed support crew are struggling with their own issues. Pensioner Flo Wilson is refusing to grow old, gracefully or otherwise, and a teen goth Raven Chakrabarti, is determined to dodge the path her family have mapped out for her.
Can the foursome cycle through saddle sores and chaffed thighs to a brighter future, or will pushing themselves to the limit prove harder than they thought?
About the author:
Daisy Tate loves telling stories. Telling them in books is even better. When not writing, she raises stripey, Scottish cows, performs in Amateur Dramatics, pretends her life is a musical and bakes cakes that will never win her a place on a television baking show. She was born in the USA but has never met Bruce Springsteen. She now calls East Sussex home.
You can find more information about Daisy's books in these places:
A Bicycle Buiilt For Sue is currently on offer on Kindle for only 99p: take a look here.