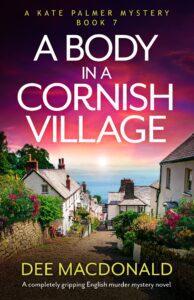 Kate Palmer finds that being a movie extra is not as exciting as she thought! Except that someone swapped the blank bullets for real ones and her sister Angie shoots an actor dead. Can Kate clear her sister's name…?
A Body in a Cornish Village is the 7th book to feature nurse and amateur sleuth Kate Palmer and her former police officer husband Woody. There are no spoilers about earlier books in the series.
Angie is devastated when the prop gun really kills a man. She had history with the victim so she is the main suspect alongside her current love Fergal who could have been jealous. Kate offers her sleuthing skills willingly to protect and absolve her sister but clues keep pointing back in Angie's direction.
As usual, Kate has a wide selection of suspects and motives to investigate. There are plenty of red herrings to keep the reader guessing until the end. I liked the mix of local characters who we have met before, alongside the new characters specific to this book.
There is little graphic forensic detail as the focus in on Kate's suspicions and interactions. Tension and drama are created as Kate has a personal interest in the case due to her sister's involvement but her investigation leads her towards danger.
A Body in a Cornish Village is an enjoyable addition to this cosy murder mystery series.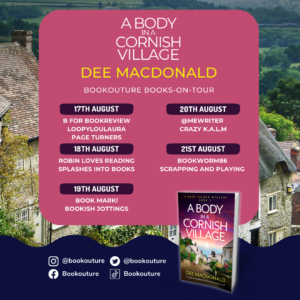 Book Description:
Cornish cream teas in the sun, dog walks on the beach and… a murder investigation? Can Kate Palmer – part-time nurse and cake-loving sleuth – solve her most baffling case yet?
Kate Palmer is delighted when she learns that her home, the beautiful seaside village of Tinworthy, is the setting for a new TV show. She's even more excited when she, her handsome husband Woody and her drama queen sister Angie are all invited to be extras. But when the cameras start rolling, the trio are in for a nasty surprise when the film's writer and producer, Crispin Wyngarde, drops dead…
Before long, rumours start flying and Angie is in the spotlight for murder. Kate knows her sister had a brief, stormy fling with Crispin during her younger days as an actress, but surely Angie couldn't have hated him that much, could she?
Kate is certain of her sister's innocence, and is determined to prove it. But who would want to kill Crispin and set the stage for Angie to take the fall? Could it be Fergal, Angie's jealous boyfriend? Sonja, the eccentric director, who had a love-hate relationship with Crispin? Or gorgeous Guy, the hairdresser who's held a grudge against the problematic producer for years?
Armed with a list of possible culprits, Kate sets out to interview everyone she can. Over cups of tea, secrets start to spill out about overheard conversations and mysterious money transfers. But just as Kate thinks she's finally on the right track, her main suspect is found dead after a party in the village. To make matters worse, he's one of Angie's old flames too…
Kate needs to solve the crime – and quick – to save her feisty sister. Can she untangle the clues and get to the truth, before it's curtains down for Angie?
If you love murder mysteries with a brilliant cast of characters, twisty plots and plenty of tea and cake, A Body in a Cornish Village will have you hooked until the very last page! Perfect for fans of Agatha Christie, Faith Martin and Joy Ellis.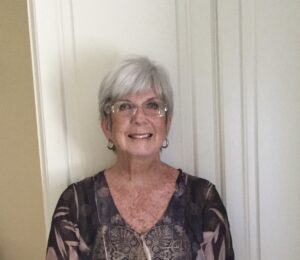 Author Bio:
Aged 18, Dee arrived in London from Scotland and typed her way round the West End for a couple of years before joining BOAC (forerunner of British Airways) in Passenger Services for 2 years and then as a stewardess for 8 years.
She has worked in Market Research, Sales and at the Thames TV Studios when they had the franchise.
Dee has since relocated to Cornwall, where she spent 10 years running B&Bs, and only began writing when she was over 70!
Married twice, she has one son and two grandsons.
Buy Link:
Amazon:
https://geni.us/B0C4YC16N7social
You can sign up for all the best Bookouture deals you'll love at: http://ow.ly/Fkiz30lnzdo