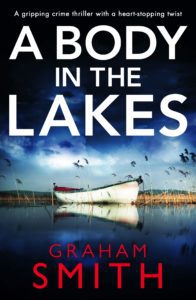 I described Graham Smith's previous book The Silent Dead as exquisite and this sequel does not disappoint at all!
We pick up a new case for DC Beth Young and her colleagues when a woman is found murdered and violated. The team quickly establish a link with 3 previous murders that had not been solved.
However, the perpetrator has gone to great lengths to incriminate the mayor in this latest murder. Derek Forster is a man who is charming and powerful and Beth is convinced that he must have made some dangerous enemies. She grows close to him as he offers to set up a charity to support rape victims.
As well as the police procedure and the mayor's viewpoint, we also see the perspectives of the killer and his next victim which makes both sides of the plot more human and ramps up the anticipation.
There is a big twist at the end, just as the team think the case is concluded but I won't give away details and spoil the surprise!
I really enjoyed this book. It wasn't as graphic as the last book although the clinical detail of the injuries is unpleaseant but, as with the previous book, it is factual rather than gratuitous.
Beth continues to develop as a police officer and negotiate her relationships with her senior colleagues. She is a fab character, passionate and dedicated. She is also driven to find the men who injured her with a bottle and destroyed her modelling career. In this book she finds one of them…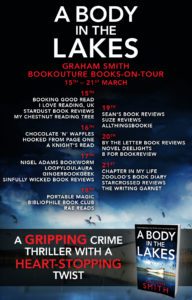 Title:                  A Body in the Lakes      
Author:     GRAHAM SMITH   
Publication Day: March 15th 2019
Buy Links :
Description:
The woman's limbs were so thin; the skin on her arms as translucent as tracing paper. Around her neck lay a faint string of purple bruises. In one so frail, darker, angrier marks might be expected but Beth knew the bruising would have stopped the moment her heart stopped beating.
When a walker finds the body of a woman by the shores of Lake Ullswater, the police are put on high alert. Felicia Evans was known to be a tough character, but who would have strangled her?
Detective Beth Young quickly spots the links to three cold cases. Three women strangled and discarded in the stunning, wild hills of the Lake District.
As Beth begins tracking down witnesses, the team receives an anonymous letter claiming the charming mayor of Carlisle is behind the murders. There's pressure from the top to clear his name. But Beth is determined to find the truth no matter whose feathers she ruffles in the process.
Beth knows the clock is ticking. The killer is hunting again. And it's down to her to find who's responsible before another woman becomes his prey…
A gripping edge-of-your-seat thriller from bestselling author Graham Smith, perfect for fans of Joy Ellis, LJ Ross, and J.R. Ellis. 

Author Bio:
Graham Smith is the bestselling author of four explosive crime thrillers in the Jake Boulder series, Watching the Bodies, The Kindred Killers, Past Echoes and Die Cold. Watching the Bodies spent over two weeks at number one in the Amazon UK chart and Amazon CA charts. Graham is also the author of the popular DI Harry Evans series and has collections of short stories and novellas. His latest novel with Bookouture is set in Cumbria and the Lake District, featuring DC Beth Young.
He is the proud father of a young son. As a time served joiner he has built bridges, houses, dug drains and slated roofs to make ends meet. Since 2000 he has been manager of a busy hotel and wedding venue near Gretna Green, Scotland.
An avid fan of crime fiction since being given one of Enid Blyton's Famous Five books at the age of eight, he has also been a regular reviewer for the well-respected review site Crimesquad.com since 2010.
When not working, his time is spent reading, writing and playing games with his son. He enjoys socialising and spending time with friends and family.
Author Social Media Links: