What a fab premise for a book! The cats (highly intelligent beings, obviously) can investigate murders! I LOVE this idea!
Nero and Marlowe help their hapless human 'owner' to find out who, why and how a well known food critic was murdered in her guesthouse. I really loved their interactions with Josie which we as readers get to see from both the feline and human perspective.
A Twist in the Tail is described as 'cozy' (US spelling) and it definitely is. There is nothing gruesome, nor any graphic detail. But the danger and anticipation are there!
Josie has bought the guesthouse from her mum's best friend Millie and is working hard to establish herself as the owner, renovate the property and cater for her guests while keeping bossyboots building inspector Barbara happy. The cats are struggling to make their opinions known and keep trying to communicate with her in order to 'train' her to get their own way.
The body of a guest is found in a closed down part of the building. It appears to be an accident but is then found to be murder. The police seem to suspect Josie so she, her mum and Millie start their own investigation: was Charles killed for personal or professional reasons?
There are plenty of suspects to eliminate from their suspicions and lots of red herrings to keep the reader misdirected too (but not the type of herring the cats would like!)
The cat element of the book is a 'purrfect' method to add a new dynamic to a murder mystery novel. Apparently, author Leighann Dobbs likes to include animals in her stories so I'm very interested to read more books to see how this works in her other series.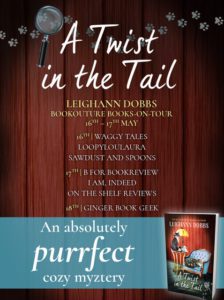 A Twist in the Tail: An absolutely purrfect cozy mystery (The Oyster Cove Guesthouse Book 1)  
FROM THE AWARD-WINNING AUTHOR OF THE USA TODAY BESTSELLING MYSTIC NOTCH SERIES…
'Talk about inconvenient. Not only did I have a dilapidated mansion and no money to repair it with, two cats I had no idea how to care for and a room full of cranky guests waiting for their breakfast, I also had a dead body on my hands.'
Josie Waters has to admit she may have acted a bit hastily when she agreed to purchase the Oyster Cove Guesthouse – a charmingly gabled Victorian mansion on the breathtaking Maine coast – from elderly family friend Millie Sullivan. But Josie was desperate to flee Ohio and in particular her ex-husband, a chef who loved his job so much he left her for it. And anyway, how hard can running a guesthouse be?
The truth is, Oyster Cove Guesthouse is a mouldering money pit with falling-in roof and a cohort of regular guests who are as mischievous as a litter of kittens. And Millie keeps dropping by to dispense unasked-for advice. And Josie might have made a mistake in promising to adopt Oyster Cove's two resident cats Nero and Marlowe, and treat them in the manner to which they've become accustomed. Josie has never had a cat before… let alone two feisty felines who think they own the place.
Ok, it's not going well. At least it can't get any worse, Josie thinks. Until her first guest ends up dead.
A joy to read, with a twist you'll never guess! A page-turning new mystery series from a bestselling author, purrfect for murder mystery fans, cat lovers and everyone in between.
About the author

USA Today bestselling author, Leighann Dobbs, discovered her passion for writing after a twenty year career as a software engineer. She lives in New Hampshire with her husband Bruce, their trusty Chihuahua mix Mojo and beautiful rescue cat, Kitty.
Her book "Dead Wrong" won the "Best Mystery Romance" award at the 2014 Indie Romance Convention.
Her book "Ghostly Paws" was the 2015 Chanticleer Mystery & Mayhem First Place category winner in the Animal Mystery category.