Daisy Harrap looks on longingly at her perfect neighbours, the Kelleways. Winnie and Bernie are celebrating their 40th wedding anniversary but what secrets are the family hiding from the wider world…?
All Good Things is a domestic and family drama about two neighbouring families set in the UK
Poor Daisy has an upsetting homelife. Her mother has depression and her father is trying his best to make ends meet. Her neighbours project an image of being the perfect family. Daisy is desperately in love with their grandson Cass despite rarely speaking to him. She envies Cass' parents for being so dynamic compared to her own.
But the Kelleway family is keeping secrets from each other and the whole world. I did guess some twists but not all! One really blew my socks off as I wasn't expecting it at all! Lawrence flashes the cash but his finances are not great. Dom and Cass appear to be paragons of virtue but both are hiding their true behaviour. Cleo has always felt second best but now she is set to become a mother herself and wants to escape from her mum's shadow.
Each chapter shows one character's perspective in the third person. I really felt that I got to know the characters and was interested in their lives and lies. Relationships are in turmoil and I was eager to know how events would play out as truths are gradually revealed. I wanted more from the ending as I felt that I cared about the characters and wanted more information about how their lives were going to play out.
The emotion in this book is really strong. There are also some big topics that the book covers sensitively (no spoilers from me!) My heart went out to Daisy and her teenage angst, hormones and sad situation with her mum.
All Good Things is an engaging and emotional book about the danger of secrets.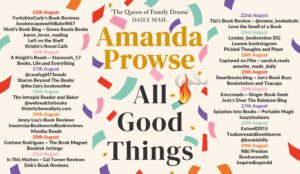 All Good Things
In this captivating story from the bestselling author of Picking up the Pieces, Daisy has always envied the perfect family next door. But will a weekend of unexpected drama prove that the grass isn't always greener?
Daisy Harrop has always felt like she exists in the background, and since her mother stopped getting out of bed, her life has come to a complete standstill. Daisy would give anything to leave the shabbiest house on the street and be more like the golden Kelleways next door, with their perfectly raked driveway and flourishing rose garden…
Winnie Kelleway is proud of the beautiful family she's built. They've had their ups and downs—hasn't everyone? But this weekend, celebrating her golden wedding anniversary is truly proof of their happiness, a joyful gathering for all the neighbours to see.
But as the festivities get underway, are the cracks in the 'perfect' Kelleway life beginning to show? As one bombshell revelation leads to another and events start to spiral out of control, Daisy and Winnie are about to discover that things aren't always what they seem.
 
Amanda Prowse would like to give a prize to the best review – any length, any star rating of a Fire Tablet.  Will ship it anywhere worldwide.
The prize for the best review is a:
Fire HD 10 tablet | 10.1″, 1080p Full HD, 32 GB, Black – Without Ads.
Fast and responsive: powerful octa-core processor and 3 GB RAM. 50% more RAM than previous generation.

Up to 12-hour battery life and 32 GB of internal storage. Add up to 1 TB with microSD (to be purchased separately).

Brighter display: vivid 10.1″ 1080p full HD display is 10% brighter than previous generation, with more than 2 million pixels.

Enjoy your favourite apps like BBC iPlayer, Netflix, Now, Facebook, Instagram, TikTok and more through Amazon's Appstore (Google Play not supported, subscription fees may apply).

Stay connected: download apps such as Zoom or ask Alexa to make video calls to friends and family.
Please ensure your review is posted by midnight on Sunday 17th September in order to be eligible.  Please tag Amanda Prowse on social media with a link to your review, wherever it is posted.  The winner will be selected and notified by Close of Play on Friday 22nd September.

Author Bio –
Amanda Prowse is an International Bestselling author whose twenty-eight novels, two non-fiction titles and seven novellas have been published in dozens of languages around the world. Published by Lake Union, Amanda is the most prolific writer of bestselling contemporary fiction in the UK today; her titles also consistently score the highest online review approval ratings across several genres. Her books, including the chart-topping No.1 titles 'What Have I Done?', 'Perfect Daughter', 'My Husband's Wife', 'The Girl in the Corner' and 'The Things I Know' have sold millions of copies across the globe.
A popular TV and radio personality, Amanda has appeared on numerous shows where her views on family and social issues strike a chord with viewers. She also makes countless guest appearances on BBC national and independent Radio stations including LBC, Times Radio and Talk FM, where she is well known for her insightful observations and her infectious humour. Described by the Daily Mail as 'The queen of family drama' Amanda's novel, 'A Mother's Story' won the coveted Sainsbury's eBook of the year Award and she has had two books selected as World Book Night titles; 'Perfect Daughter' in 2016 and 'The Boy Between' in 2022.
Amanda is a huge supporter of libraries and having become a proud ambassador for The Reading Agency, works tirelessly to promote reading, especially in disadvantaged areas. Amanda's ambition is to create stories that keep people from turning the bedside lamp off at night, great characters that ensure you take every step with them and tales that fill your head so you can't possibly read another book until the memory fades…
Praise for Amanda Prowse:
'A powerful and emotional work of fiction' – Piers Morgan
'Deeply moving and emotional, Amanda Prowse handles her explosive subjects with delicate skill' – Daily Mail
'Uplifting and positive, but you will still need a box of tissues' – Hello!
'A gut-wrenching and absolutely brilliant read' – The Irish Sun
'You'll fall in love with this…' – Cosmopolitan
'Deeply moving and eye opening. Powerful and emotional drama that packs a real punch.' – Heat
'Magical' – Now magazine

Social Media Links –