Corinna Ormesby cuts her hair and dresses as a man in order to travel to London to try to find her biological father. She ends up in a fist fight and joins a unit of close young male friends. But can she keep her true self hidden?
An Unsuitable Heiress is an historical romance novel set in the Regency period in England.
Corinna's mother dies and she leaves her home to search for her father. She had contact with him while she was younger but doesn't know his name. On the journey to London disguised as a boy, she meets a group of rich men who take her under their wing and introduce her to the finer things in society. They agree to help her find her father but one fo them has a vested interest as he is the male heir of the gentleman in question.
I enjoyed the premise of the plot and the bravery of Corinna. She has the determination to find the truth and her destiny, defying the negaitve attitudes towards her illegitimacy, gender and class. I wanted her to succeed in her quest as well as find happiness.
There were moments of humour whilst Corinna is acting as Cory. She is taken to a brothel as well as experiencing other male pursuits. The young men use interesting language and have a warm friendship. Apart from the Earl's grief after the death of his son, I felt that there could have been a little more of an emotional side to the story and characters.
An Unsuitable Heiress is an enjoyable historical novel.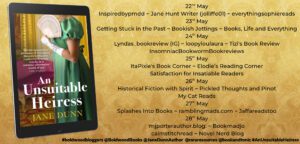 An Unsuitable Heiress
'Do you realise, Corinna, just how hard it is for a young woman of irregular birth, without family, fortune or friends in the world? Marriage is the only way to get any chance of a life.'
Following the death of her mother, Corinna Ormesby has lived a quiet life in the countryside with her cantankerous Cousin Agnes. Her father's identity has been a tantalising mystery, but now at nineteen Corinna knows that finding him may be her only way to avoid marriage to the odious Mr Beech.
Deciding to head to London, Corinna dons a male disguise. Travelling alone as a young woman risks scandal and danger, but when, masquerading as a youth, she is befriended by three dashing blades, handsome and capable Alick Wolfe, dandy Ferdinand Shilton and the incorrigible Lord Purfoy, Corinna now has access to the male-only world of Regency England. And when she meets Alick's turbulent brother Darius, a betrayal of trust leads to deadly combat which only one of the brothers may survive.
From gambling in gentleman's clubs to meeting the courtesans of Covent Garden, Corinna's country naivety soon falls away. But when she finds her father at last, learns the truth about her parentage and discovers her fortunes transformed, she must quickly decide how to reveal her true identity, while hoping that one young man in particular can see her for the beauty and Lady she really is.

Author Bio –
Jane Dunn is an historian and biographer and the author of seven acclaimed biographies, including Daphne du Maurier and her Sisters and the Sunday Times and NYT bestseller, Elizabeth & Mary: Cousins, Rivals, Queens. She comes to Boldwood with her first fiction outing – a trilogy of novels set in the Regency period, the first of which  is to be published in January 2023. She lives in Berkshire with her husband, the linguist Nicholas Ostler.
Social Media Links –