TRIGGER WARNING: child abuse, murder of foetuses and pregnant women
DI Gary Blood's latest case is a gory one: missing teenage pregnant girls, their posed bodies and dead babies. But will his focus be distracted by his personal relationships…?
Blanket of Blood is a police and crime thriller set in the UK.
The case itself is very gruesome as well as emotive. The deaths of teenagers and their babies is extremely difficult to read about. Most of the book is in the present day but many chapters end with the killer's perspective. This reveals deep mental health issues that derive from the abuse they were forced to endure as a child. It in no way excuses the behaviour but it does explain it.
There is a wonderful mix of the gore and the glorious personality of DI Blood. I was completely caught up in the professional and personal plotlines. Suspects and suspicious behaviour were rife and I kept changing my mind on who I thought was repsonsible for these heinous murders.
Meanwhile, there is plenty going on in Gary Blood's private life. His daughter has announced she is transgender. His brother has OCD and reveals a huge secret when an alibi is required. Blood sleeps with a variety of women, including his ex-wife (awkward!) and flirts with many more. But he and Sue, his brother's ex, both have a longing for each other that they cannot allow themselves act upon.
The style of writing was engaging and there was a light hearted tone at times in descriptions, dialogue and turns of phrase. This softened the wicked side to humanity portrayed through the crimes and characters. The dialogue is written to show the accents of the characters which gives them an added dimension of realism.
Blanket of Blood is a grisly but glorious, disturbing but fascinating crime novel.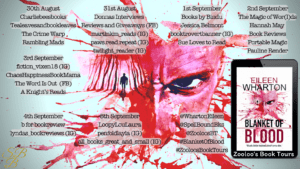 Book Blurb
The body of a baby is found in the woods but all is not as it seems.
A twisted serial killer is targeting pregnant teenage girls.
DI Blood races against the clock to stop the most chilling murderer he's ever hunted. His private life meanwhile threatens to distract him and derail his investigation.
Any mistakes, any hesitation on his side, could cost another innocent life …

Author Bio
Eileen Wharton is an Oscar winning actress, Olympic gymnast, and Influencer. She also tells lies for a living. Her first novel was published in 2011 to worldwide critical acclaim. And she's won awards for exaggeration. It did top the Amazon humour chart so she's officially a best-selling author. She currently has five 'lively' offspring ranging from thirty-three to fourteen years of age, and has no plans to procreate further, much to the relief of the local schools and police force. She lives on a council estate in County Durham. She has never eaten kangaroo testicles, is allergic to cats and has a phobia of tinned tuna. She's retired from arguing with people on the internet.
Follow her at: