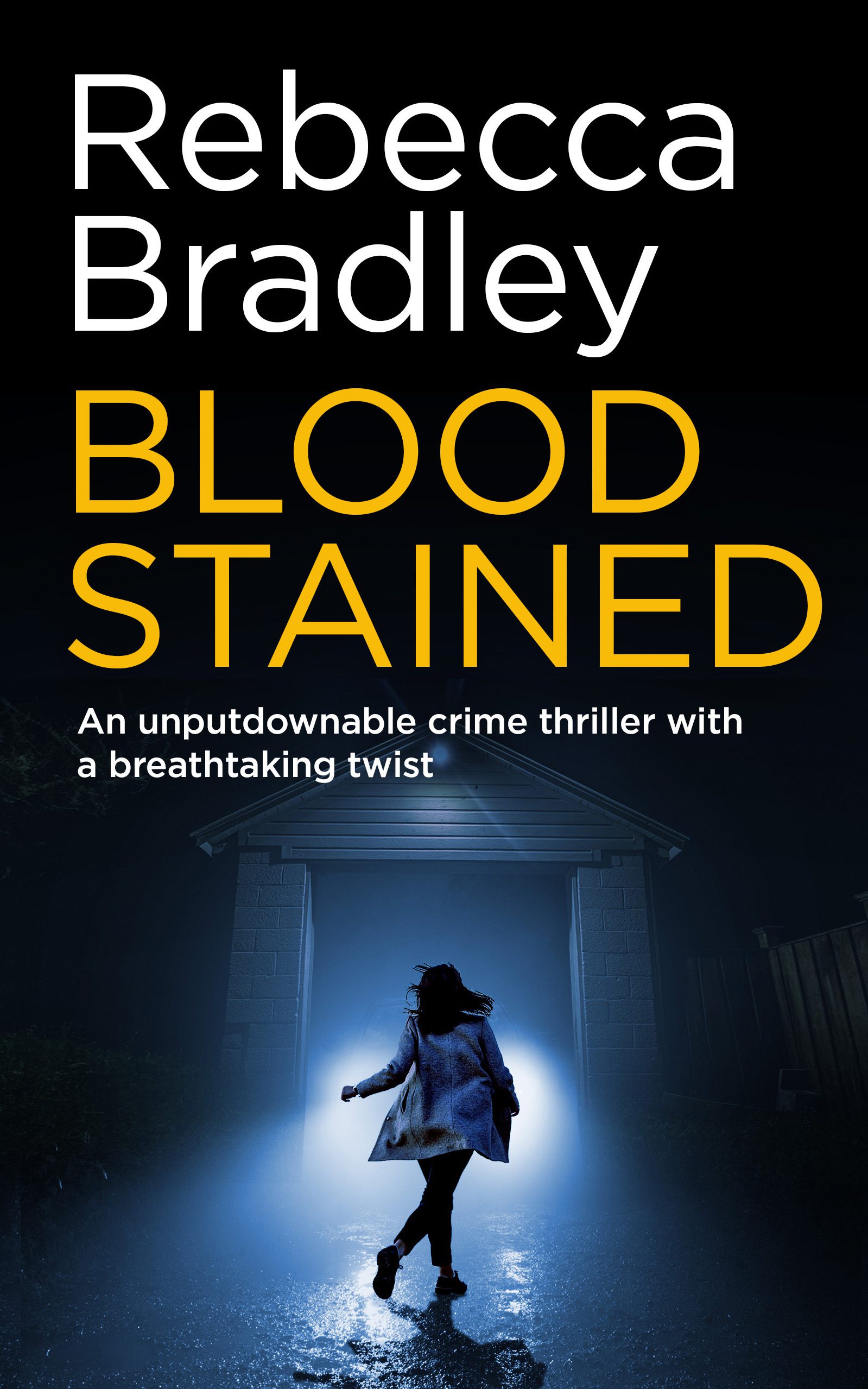 Police officer Ruth Harrison is viciously attacked and then vanishes from her home. Her husband Dominic is a high profile police officer, leading the investigation into the Sheffield Strangler. But now he is the prime suspect and he needs to convince his colleagues of his innocence so that they can find his wife and catch the Strangler.
Wow! Blood Stained is the first in a new police and crime thriller series and what a way to begin! We witness the brutal attack on Ruth in the opening chapter and then are straight into the investigation into her disappearance.
The plot is delivered through the third person perspectives of Dominic and Claudia. His chapters showcase his frantic search over the last six months to find the Sheffield Strangler before he strikes again. Meanwhile the chapters that focus on Claudia show her interviewing Dominic in connection wth his wife's attack and to get the inside story on his case.
There are some major plot twists scattered through the book and plenty of bodies to ramp up the tension. Including Ruth's attack at the start sets the tone but also invests us in the search for the truth and justice. We develop a feeling of dread that the Strangler has still got her alive or dead but hope that together Dominic and Claudia can unpick the clues to find her safe.
The pace of the writing is quite fast and the events seem relentless. Dominic and Claudia have an authenticity and their revulsion at the murders is both realistic and human. There are some unpleasant forensic details but they are not gratuitous.
Blood Stained was completely gripping and I can't wait to see what happens next for Claudia in her career and personal life.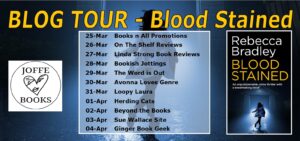 Blood Stained – blurb
Can't find her.
Can't catch him.
Can't trust anyone.
The first in a gripping new Sheffield-set crime series starring Detective Claudia Nunn.
Detective Claudia Nunn's colleague DS Dominic Harrison has been leading the case against a dangerous serial killer, who hunts his victims using a dating app. But now his own wife has gone missing.
Then a large pool of blood is discovered in their garage. And Dominic is the prime suspect.
Is Dominic being framed by a serial killer or will Claudia expose an even uglier truth?
Can't tell a soul how it ends.
Blood Stained is a dark, twisty and utterly compulsive page-turner that will be devoured by fans of Helen H. Durrant, Rachel Abbott, Angela Marsons and L.J. Ross.
READERS CAN'T GET ENOUGH OF REBECCA BRADLEY:
"Tense, tightly written and I couldn't put it down until I was done. A definite 5 stars." Angela Marsons, author of Twisted Lies
"Honestly one of the most gripping – and thoroughly disturbing – things I've read in a while. It's like watching a mind slowly unravel. Highly recommended." Cass Green, author of The Killer Inside
"A clever and emotional read from an author who deserves to be more well known." Steph's Book Blog
"Rebecca Bradley has the knack of drawing you into a book and then you find it hard to put down." Graham R.
"Terrifyingly authentic." A Chapter in my Life
"Slick, absolutely fascinating." Damppebbles
"Compelling, dark and absolutely a page-turner." Crime Book Junkie
REBECCA BRADLEY
Rebecca Bradley lives with her family in the UK, and two Cockapoos, Alfie and Lola, who keep her company while she writes. She drinks copious amounts of tea to function throughout the day and if she could, she would survive on a diet of tea and cake while committing murder on a regular basis. Rebecca served fifteen years in the police service and finished as a detective constable on a specialist unit.
BOOKS BY REBECCA BRADLEY
BLOOD STAINED
FOLLOW REBECCA ON