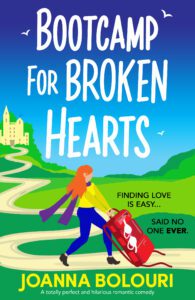 Nora's sister, best friend and daughter send her to an exclusive retreat to try to kickstart her love life. She makes an instant friend but will romance be on the horizon…?
Bootcamp For Broken Hearts is a warm and fun novel. There is plenty of humour and wry observations but also words of wisdom that resonated with me.
The book is written from Nora's first person perspective. Her character really came to life and I had my fingers crossed she would get a happy ending. She is happily single but stuck in a rut. Her friends and family want her to have some excitement, find happiness and someone special. They arrange for her to attend a retreat which aims to change her mindset and promote personal growth.
Nora and Will develop such a great spark that I was desperate for them to get together. The plot has some big twists in store for the pair and the anticipation was maintained until the very end. Both are skeptical about the retreat's vision but find themselves reassessing their feelings and opinions. I found the power of positivity encouraged at the retreat really striking and thought provoking.
Bootcamp For Broken Hearts is an enjoyable romantic comedy with a lead character that is easy to relate to.
Bootcamp for Broken Hearts: A totally perfect and hilarious romantic comedy
 A stunning Scottish castle, a tall dark stranger, and a vow to stay single happily ever after… what could go wrong?
Nora Brown is totally happy single. The men in her life have all been selfish, cheating liars and being alone is far easier than risking a broken heart again – for her and for her daughter. She's only going to Romance Reboot – a posh 'singles' bootcamp' at a castle in the Scottish Highlands – to keep her sister quiet.
But surrounded by tumbling waterfalls and sweet birdsong, Nora can't deny she's starting to relax. Even better, she finds another guest with no intention of finding love. Will Thomson has dark tousled hair, a sly grin, and a shocking sense of humour. Everybody else hears their laughter and thinks they're falling for one another, but Nora knows she's safe – he's just here on a research trip.
Determined to ignore the spark between them, Nora agrees to be Will's cover, fending off other suitors with private sniggers over wine and quite convincing public displays of affection. Just when she starts to question if she might be missing something important, she starts to suspect Will might be hiding something from her.
Will is just another cheater-in-the-making like all the others, isn't he? Nora will go home to her daughter happy and single, just like she always intended. Even if she could find out the truth about him, she isn't interested… is she?
An absolutely hilarious, totally unputdownable romantic comedy from a bestselling author. Perfect for fans of Sophie Kinsella, Sorry Not Sorry and Marian Keyes.
BUY LINK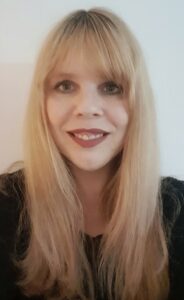 ABOUT THE AUTHOR
Joanna Bolouri worked in sales before she began writing professionally at the age of thirty. Winning a BBC comedy script competition allowed her to work and write with stand-up comedians, comedy scriptwriters and actors from across the UK. She's had articles and reviews published in The Scotsman, The Skinny, The Scottish Sun, Huffington Post and HecklerSpray.
She lives in Glasgow with her daughter.
AUTHOR SOCIAL MEDIA
Twitter: @scribbles78