DI Nash has a series of seemingly unrelated cases to investigate: drugs, arson and murder. The circumstances of each case is unusual and Mike's unique thought process will be vital to catch the killer…
Burial Grounds is the 14th book to feature Mike Nash and his team. However it is the first book by this author that I have read and now I want to catch up!
Mike Nash is a great lead detective with a gift for making unlikely connections that then go on to solve investigations. He has a strong relationship with his whole team and is easy to like. I want to read the previous books to see how these relationships formed and how Mike's character has developed. He has a settled home life and an understanding partner who copes with his frequent absence at mealtimes!
I liked the way that this book doesn't feature just one crime as this felt realistic. The whole team are involved in a range of investigations so there are plenty of twists as links are explored. This makes the plot crammed full of the process of each case. The forensic detail is not particularly graphic and the procedural nature of police cases takes precedence.
Burial Grounds is an enjoyable police and crime novel.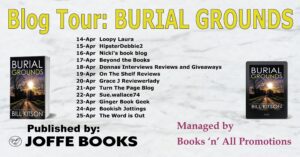 BURIAL GROUNDS BY BILL KITSON
Detective Mike Nash thought that moving back to Yorkshire from London would give him a quieter life. Little did he know . . .
A young woman killed in a hit-and-run. A naked body in the cemetery. A local woman reported missing.
A young mother-to-be out for an evening jog is callously struck down in a hit-and-run.
Three weeks later, Detective Mike Nash is called out to the local cemetery. A naked body has been found — a body which definitely shouldn't be there — placed face down on a grave.
The post-mortem reveals that the victim was restrained with manacles, and then drowned, his body kept upside-down in water for several days after death.
It's soon established that the dead man was Andrew Derrick, who worked for a local IT company. Quiet, well-mannered, he kept himself to himself. The motive for his murder is a mystery.
Then a second body turns up in the cemetery, killed in the same macabre way. And another employee from the company is reported missing.
What connects them? DI Nash pieces the clues together . . . and finds himself on the trail of a ruthless killer who will stop at nothing to ensure the truth remains hidden.
A breathtaking crime thriller perfect for fans of Ian Rankin, J. R. Ellis, L. J. Ross, Angela Marsons, Janice Frost, David J. Gatward, J.D. Kirk, Helen H. Durrant, Joy Ellis, Biba Pearce, D.S. Butler or Peter Robinson.
WHAT READERS ARE SAYING ABOUT BILL KITSON:
 "Whenever I put it down, I couldn't wait to pick it back up and start again." Christine
 "I enjoyed this story so much that I finished it within a day. A maze full of surprises that readers of this author should be happy with. I honestly couldn't fault it." Kindle Customer
 "Absolutely suburb read, this author is incredible." Cynthia D.
 "Another excellent read from the pen of Bill Kitson." Keith H.
MIKE NASH
A highly talented detective, he was a rising star in the Metropolitan Police. Following a particularly gruesome case involving a sadistic serial killer, Nash turns down the chance of promotion and heads back to his native county of Yorkshire. He hopes that returning to his roots will bring peace of mind. However, although the pace of life seems gentler, the crimes prove no less horrific. His skills are tested to the limit by a series of violent crimes that threaten to ruin his plans for a more relaxed lifestyle. Nor is his secret ambition to settle down made any easier by his one weakness, a seemingly unquenchable thirst for female company. That is, until . . . ?
LOCATION
The books are set in a fictional rural North Yorkshire with a scattering of market towns, many small villages and countryside that changes from high moorland with dramatic crags, mountain tarns and sparse vegetation, to the gentler, lush agricultural land lower down the valley that is bisected by the river Helm. The town of Helmsdale is where Mike Nash and his team are based, in a sub-division of their headquarters in the larger town of Netherdale. Further to the west is Bishopton, also part of the hub our detectives cover.

BILL KITSON
Bill Kitson was born in Bradford, West Yorkshire. His father, a wool merchant, was a fan of crime books giving Bill access to his diverse thriller collection from a young age.
Educated at Ashville College, Bill worked in the family business before spending over thirty years as a bank executive. A keen cricketer and sportsman, the highlight of his career came when he umpired a one-day international at Lords.
He and his wife now live in Scarborough, North Yorkshire, where he writes crime, romance, and general fiction. Bill's interests include Cricket, Crime, Crete, Cookery, Cryptic crosswords – and also Alliteration.
Photo Credit: J Brian Beadle
BOOKS BY BILL KITSON
DETECTIVE MIKE NASH THRILLER SERIES:
WHAT LIES BENEATH

VANISH WITHOUT TRACE

PLAYING WITH FIRE

KILLING CHRISTMAS

SLASH KILLER

ALONE WITH A KILLER

BLOOD DIAMOND

DEAD & GONE

HIDE & SEEK

RUNNING SCARED

THE BLEEDING HEART KILLER

CHAIN REACTION

CUT-THROAT

BURIAL GROUNDS

DETECTIVE MIKE NASH BOOKS 1–5 BOX SET

JOFFE BOOKS MURDER MYSTERY & SUSPENSE SHORT STORY COLLECTION
THE COWGILL FAMILY SAGA SERIES:
BROTHERS AND SISTERS OF BYLAND CRESCENT

STORM CLOUDS OVER BYLAND CRESCENT

COMING HOME TO BYLAND CRESCENT
FOLLOW BILL ON