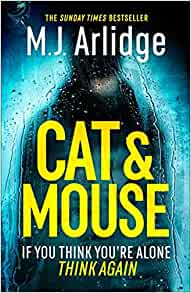 A merciless killer on the street of Southampton, a vengeful killer hiring assassins. DI Helen Grace faces two adversaries at once!
Cat and Mouse is the 11th book in the Helen Grace series but it is the first that I have read. There is an aspect of the plot which I assume relates to a previous book but it works as a stand alone novel.
The plot develops at a fast pace combined with short chapters so I sped through the pages, eager to find out what would happen next! There are two separate plot strands linked by the lead detective Helen Grace. She has an old enemy who has eluded capture and she needs to be constantly vigilant as an attack could happen at any time. Professionally, she is dealing with a series of brutal murders that seem to have no connection except for the manner of death.
Helen also has a big issue with her boss who wants her out. She has the support of her team, especially her sergeant Charlie who is also a close personal friend. But Charlie has her own relationship issues playing on her mind and in the second half of the book her loyalties are divided between her friend and her career.
I really enjoyed this book and loved the twists as the investigation progresses. The murders are shocking and the emotional response of the grieving relatives makes us root for Helen and her team. I also really liked seeing Helen's enemies' perspective, and knowing the danger she was in gave a great tension and anticipation.
Cat and Mouse is a fabulous police thriller and I need to read the other books in the series as I love Helen's character.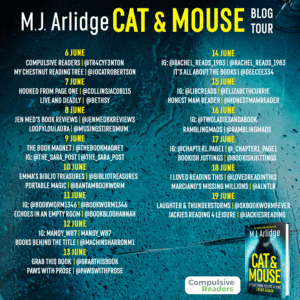 CAT AND MOUSE
The new DI Helen Grace thriller
By M.J. Arlidge
Published in hardback on 9th June 2022 by Orion Fiction, priced £12.99
THE LATEST COMPULSIVE AND GRIPPING DI HELEN GRACE THRILLER BY THE SUNDAY TIMES BESTSELLER MJ ARLIDGE
When you think you're safe,
When you think you're all alone,
That's when he'll come for you…
A silent killer stalks the city, targeting those home alone at night – killing without pity or remorse.
As panic spreads, Detective Inspector Helen Grace leads the investigation, but is herself a hunted woman, her every step dogged by a ruthless killer bent on revenge.
As she tracks the murderer, Grace begins to suspect there is a truly shocking home truth that connects these brutal crimes…

Check the windows, lock the doors – this is a twisted page-turner that will prey on your darkest fears, in the way only M.J. Arlidge can.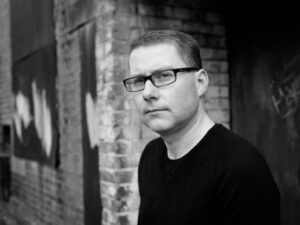 ABOUT THE AUTHOR
Matthew (MJ) Arlidge has worked in television for the last twenty years, specialising in high-end drama production, including prime-time crime serials Silent Witness, Torn, The Little House and, most recently, the hit TV show Innocent. His debut thriller, Eeny Meeny, was the UK's bestselling crime debut of 2014 and has been followed by nine more DI Helen Grace bestsellers including the latest, All Fall Down. In 2015, his audiobook exclusive Six Degrees of Assassination was a number-one bestseller.