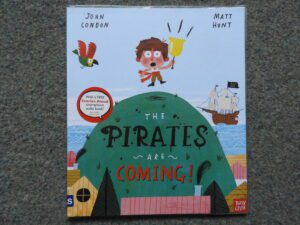 The Pirates Are Coming book blurb:
A hilarious re-telling of The Boy Who Cried Wolf, with not one but TWO twists!
Tom has a VERY important job; every day he climbs to the top of the hill and watches for pirate ships. But when he rings his bell and shouts "PIRATES!" a few too many times – and there's NO pirate ship – the villagers begin to get tired of hiding. So what will happen when the pirates really do show up?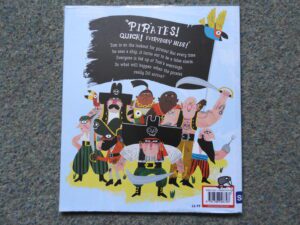 My review:
I LOVE this book. The first time I read this was at school last month to a child I work with. I cried. Actual genuine tears. The ending was so touching and unexpected that it really gripped me emotionally.
But I get ahead of myself! Tom sets himself the job of looking out for pirates and rushes down to the village where everyone hides (see the fab picture below). However, the pirates are not there this time nor the next…
The Pirates Are Coming has a lovely and important message about making assumptions and judging a book by its cover. This works in tandem with the 'boy who cried wolf' element to the story. There are plenty of opportunities to discuss emotions and how these can be shown through the facial expressions and body language of the illustrations.
I really loved the fun illustrations which bring the delightful plot to life. There is a lovely humour to the text and pictures which makes this a wonderful book for children to share with adults.