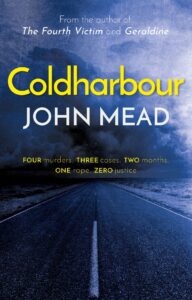 A murdered woman is traced back to a trafficking ring. Can DCI Matthew Merry put his personal issues to one side and work with international colleagues to solve the case…?
Coldharbour is the fourth book from John Mead and the first that I have read. This works perfectly well as a standalone novel as there is enough background without giving details of previous cases.
Matthew Merry has significant personal concerns as his wife Kathy is going through a court case against her rapist. At several points during the book, he is torn between his dedication to his job and the desire to find justice for victims against his love for his family and their emotional needs.
The case itself is unpleasant but not too graphic. A woman is murdered and found to have links to a trafficking gang. The main plot is about the hunt for the ring leaders but Matthew's wife Kathy finds herself personally and awkwardly involved. I didn't feel a particularly strong emotional pull to the main plot or murder victim. However, this was counterbalanced by the vulnerability of Kathy and Matthew which brought their characters to life.
I found it a little tricky at times to keep up with the police acronyms and the range of nicknames/pseudonyms for the suspects. There were additional subplots of other investigations and I felt this was realistic as I'm sure police are rarely just dealing with one crime at a time. I enjoyed the involvement of the French and Italian police as Matthew hunts down suspects across Europe.
Coldharbour was an enjoyable crime thriller.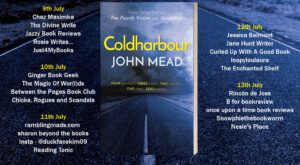 Coldharbour
The Met Police's Major Investigation Team East has its hands full: a rash of tit for tat gang related stabbings, a strangled housewife, the decomposed remains of a woman found in a ditch and more to come. Adding to their woes is their boss, Chief Inspector Matthew Merry, being distracted by his problems at home.
For Matthew's wife, Kathy, her only concern is dealing with the aftermath of being drugged and raped by a co-worker. Will the trial of the man responsible be enough to give her the justice she demands. Or, as her therapist states, is it revenge she really desires. She doesn't know. As her emotions see-saw from elation to depression, her only certainty is that her husband seems more concerned about his work than her.
And Matthew is only too aware of his failings both at home and work. But the police machine grinds on, seeking information and sifting evidence — justice is not their concern.

Purchase Links –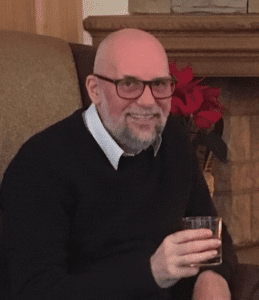 John Mead
John was born in the mid-fifties in Dagenham, London, on part of the largest council estate ever built, and was the first pupil from his local secondary modern school to attend university. He has now taken early retirement to write, having spent the first part of his life working in education and the public sector. He was the director of a college, a senior school inspector for a local authority, and was head of a unit for young people with physical and mental health needs. When he is not travelling, going to the theatre or the pub, he writes.
John is currently working on a seies of novels set in modern day London. These police procedurals examine the darker side of modern life in the East End of the city