Thomasin Marwood is 17 and excited to visit the court of King Henry VIII. But everything has changed since her parents were last there. The Queen has been sidelined as Anne Boleyn's power increases. Thomasin needs to negotiate the political machinations of the court as well as romantic intrigues which threaten her honour…
Dangerous Lady is the first book in a series set in the Tudor era of the late 1520s. There is a mix of fictional characters as well as genuine figures from the age. I felt like I was immersed in the courtly life as well as the personal experiences of a teen coming of age.
Thomasin's sister Cecilia is set to marry at court and the sisters quickly find favour with both Queen Catherine and Anne Boleyn. Personal and political plotlines merge as Thomasin tries to survive in the dangerous court of Henry VIII. Forbidden love as well as courtly behaviour is of national importance in contrast to Thomasin's first personal experience of love and lust.
I have to confess that I adore the Tudor period so almost guzzled this book! I couldn't put it down and finished wthin a few hours, yet didn't want it to end. The author has done plenty of research and I felt that the characters behaved authentically. Thomasin is slightly impetuous and naive, unused to affairs of state and the heart. She is in danger due to her romantic relationships as well as her divided loyalties to the queen and the rising power of Anne Boleyn.
Dangerous Lady was a completely compelling book and a must for all Tudor fans!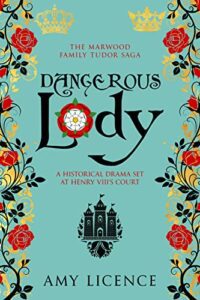 Book blurb:
The first book in a stunning Tudor historical series! For fans of Philippa Gregory, Elizabeth Chadwick, Carol McGrath and Anne O'Brien.
Will Thomasin choose duty – or love…?
1527
At seventeen, 
Thomasin Marwood

 is plunged into court society when a husband is found for her elder sister, Cecilia.
But the mood at court is tense. It is split between the conservative Catholics, loyal to Queen Catherine of Aragon, and the fashionable Francophiles, enthralled by King Henry's mistress, Anne Boleyn.
While her parents sympathise with the old queen and her faith, Thomasin can not help but be drawn to the glamour and vitality Anne represents.
And her head is soon turned by the tall, dark and handsome Rafe Danvers who seems equally entranced with her.
But as a ward of Anne's father, Sir Thomas Boleyn, Rafe represents the "other" side, of which Thomasin's parents are unlikely to approve. And they have already lined up their own candidate for Thomasin's hand, 
Sir Giles Waterson

, who comes from wealth and good standing.
Thomasin finds herself torn between duty and the desire Rafe has aroused in her. But when she is drawn into a dark plot concerning Queen Catherine, she realises the court is far more dangerous than it appears…
Which path, and with whom, will she choose?
DANGEROUS LADY 

is a page-turning historical drama set at the court of King Henry VIII and featuring Anne Boleyn. It is the first book in the Marwood Family Tudor Saga Series.