1812 France. Max Fould is called upon by Napoleon himself to fight in Russia. The mission is a disaster and as Max lays dying he makes a pact with a raven. The raven is the deity Kutkh and Max becomes immortal as long as the raven lives…
Death and Mr Fould is an historical novel with a supernatural element.
Max is an immature young rich man when he is summoned to take part in the Russian invasion. He catches and saves a talking raven who is a deity. They make a contract which saves them both but Max quickly discovers the evil side to the bargain. The second part of the book moves forward to England in the 1870s where Max falls in love. This plotline was just wonderful and had vibrant characters and much more emotion. The final part of the book is set in the early 1900s as war looms.
Being a history graduate, I appreciated the level of research that must have taken place to bring the plot and characters to life. The detail of the three different time periods was really effective for creating the backdrop to Max's story. I liked the way that the author used big historical events and real figures as well as fictional personal relationships to drive the plot forward and allow Max's characters to develop.
Max has to undergo some horrific events as his family and friends are targeted by the vindictive raven. There is enough emotion to tug at the heartstrings but Max forges on through his sadness which means we don't linger on it either. Max has a fabulous relationship with Death as they consider how to outsmart the raven. Death is portrayed as a kindly being, safely guiding souls to the afterlife. I liked the idea of him having paperwork!
Death and Mr Fould is an engaging and fascinating book.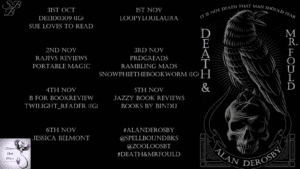 Book Blurb
A stunning gothic historical hybrid genre story perfect for Halloween!
Max Fould, an aristocrat from the Fould banking family, goes off to war under the leadership of Napoleon.
While stranded in Russia, he encounters a creature that sets his life on an unimaginable path based on Russian folklore.
Follow Max Fould from post-revolutionary France to the First World War, where his past and present come full circle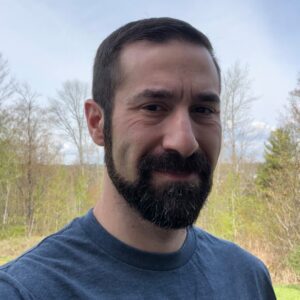 Author Bio
Alan Derosby, a Maine native, has spent the past several years focusing on his passion: writing.  Alan has created original and spooky short stories, having several published in a variety of anthologies. MAN OF CLAY is his debut novel.
When not writing, Alan is teaching history at Messalonskee High School in Oakland, Maine, spending time with his wife and daughter, or watching the New York Mets suffer through another disappointing season.