Lady Eleanor Swift's friend Constance is due to get married in a week when her fiance is accused of a breach of contract. Has he acted dishonourably and can Ellie prove his innocence? Her efforts are further hampered by a series of deaths…
Death Down The Aisle is the 11th book in the Lady Eleanor Swift series by Verity Bright. It would work as a stand alone book but I can't imagine not wanting to read the whole series!
Nope, still not a wedding for Ellie and Hugh! The slowest romance ever? But this book is still full of delicious moments of love, care and respect between the pair that fans of the series like me are desperate to turn into a happy ending.
Of course the most striking relationship in the book is once again that between Ellie and her butler Clifford. He is unflappable, stoic and despairs in a kindly way at his mistress's behaviour but it is obvious he loves her dearly.
There are a wonderful host of suspects for Eleanor and Clifford to investigate. Class and gender play a crucial role as Eleanor investigates. Ellie defies convention at every turn, often putting herself in danger much to Clifford and Hugh's dismay. I enjoyed the historical detail which enhances the plot and character development.
Death Down The Aisle is a very enjoyable cosy murder mystery.
Book Description:
The society wedding of the decade has everything: the blushing bride, beautiful flowers… and the groom arrested before he can walk down the aisle? Thank goodness Lady Swift is on the guest list!
Lady Eleanor Swift isn't normally one for grand social occasions, but who can resist a wedding? Especially when it's her old friend, Constance Grainger, marrying the most eligible bachelor in town, Lord Peregrine Davencourt. Eleanor is taking Gladstone the bulldog as her plus one, with a smart new bowtie to match her bridesmaid's dress.
But the big day is ruined when the groom is arrested for murder before he makes it to the altar. In a baffling twist, it turns out he was already engaged to the lovely Daisy Balforth, who has been found dead at the local inn with Lord Davencourt kneeling over her. The gossip pages will have a field day!
The distraught bride-to-be asks Eleanor to clear her fiancé's name, as she's certain he wouldn't hurt a fly. With help from handsome Detective Seldon, Eleanor examines the evidence. But she's barely had time to write down her suspect list before Constance's father is set upon by a bearded stranger on the golf course. Clearly there is more to this story than Eleanor first thought, but can she catch the real killer before the wedding turns into her wake?
A delightfully gripping historical cozy whodunnit full of intrigue and wit. Fans of T E Kinsey, Agatha Christie and Lee Strauss will be totally charmed.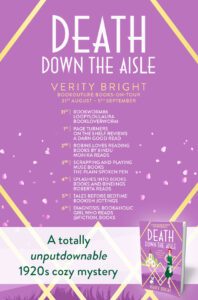 Author Bio:
Verity Bright is the pseudonym for a husband-and-wife writing partnership that has spanned a quarter of a century. Starting out writing high-end travel articles and books, they published everything from self-improvement to humour, before embarking on their first historical mystery. They are the authors of the fabulous Lady Eleanor Swift Mystery series, set in the 1920s.
Buy Link:
You can sign up for all the best Bookouture deals you'll love at: http://ow.ly/Fkiz30lnzdo