Danielle Lewis left her family and disappeared to London a decade ago after being shot at and losing her unborn child. Now she is back and re-enters her family's criminal network. But can she find out who was responsible for her attack?
Deceit is the first book in a new family drama and gangland crime series. However, the past plays a significant role in the plot developments and character behaviour.
Dani fled after finding her lover had cheated on her, being shot at and losing her baby. She went through a lot of trauma and needed time to heal. Now she is ready to rejoin her family as well as find the truth about the past. The Lewis and Flynn rivalry has continued in her absence and her reappearance could shift the family dynamics.
The book is written in the third person throughout so we see and understand a range of characters and their actions. Dani has a huge emotional burden but she is able to put it aside to focus on her purpose and support her family. Many of the characters are larger than life and there is a comic touch to some of the dialogue.
There are a lot of intricate and entangled relationships that underpin the various plot strands. I enjoyed the different layers of plot which created a tense atmosphere and dramatic interactions between the characters. There is some violence as you would expect from this genre but it is not too graphic.
Deceit is an entertaining novel and I look forward to reading future books in this series.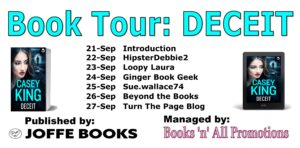 DECEIT by Casey King  (The Dublin Thrillers Book 1)
If you love Martina Cole and Kimberley Chambers, don't miss Casey King's absolutely gripping and gritty crime thriller about betrayal, revenge and family secrets.
It's a story as old as time. Girl meets boy. Their marriage promises peace between their feuding families. Then it all falls apart.
TEN YEARS AGO SOMEONE TRIED TO KILL HER.
Danielle Lewis's marriage to Jason Flynn brings together two warring Dublin crime families. It should be a joyous union.
But someone tries to take her life.
Danielle survives the shooting but loses her unborn son. She can't prove it, but she knows her shooting is related to the crime that both families trade in. Then Jason cheats on her, just when she needs him most. And Danielle has had it.
She leaves Dublin and her family behind.
NOW SHE'S BACK. AND SHE WANTS ANSWERS.
After ten long years living in exile in London, Danielle returns.
Her homecoming threatens the uneasy truce that has existed between the Lewises and the Flynns ever since she left.
Danielle is willing to do what whatever it takes if it means finding out the truth.
But what she discovers changes everything.
WHO TRIED TO KILL HER, AND WHY?
Fans of Kerry Kaya, Kimberley Chambers, Emmy Ellis, Emma Tallon, Caz Finlay and Martina Cole, get ready for the first novel in an explosive new gangland crime series packed with twists, turns and deceit.
CASEY KING
Casey King is an Irish crime writer from Co. Cork. She writes gritty gangland crime and thrillers. With a Diploma in Policing Studies, Casey is often the first call for fellow crime writers when including police procedure in their best-selling and award-winning novels. Throughout her career in the Irish police force, she has worked on numerous gangland operations, drug investigation, and has held various other roles. As well as completing a HDip in Coaching/Coaching Psychology at University College Cork, she's also a fully qualified Mindfulness Teacher. Casey loves motivating those who have the will and potential to write; there is always a way.
BOOKS BY CASEY KING
THE DUBLIN THRILLERS SERIES