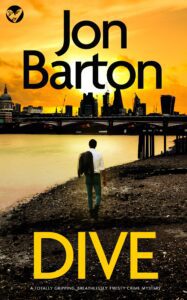 Drugs and female corpses are found in the River Thames by the marine police. Frogman David Cade usually passes the bodies on but his new colleague Naomi Harding wants to pursue the deaths. He is convinced to listen to her when his own daughter goes missing…
Dive is a murder mystery and detective novel set in London.
Naomi Harding has been sidelined from her usual work following a disasterous case. Now she is attempting to rescue her career with a drugs case that may also link to murder. David Cade is a hardened frogman but his personal involvement in the case lead him to work with Naomi. His daughter has gone missing and every time a body is found, he panics that it is Lex.
There is a lot of technical detail and jargon about the marine police which added an authenticity but went over my head a bit. I focussed on the main threads which for me was a dad searching for his teenaged daughter and a woman fighting for her career. The personal side to the case delivers a powerful emotional impact.
The book is written in the third person throughout so we see the police perspectives as well as the criminals. This raises the tension as we fear for Lex's safety and understand the danger she could be facing. Naomi and David are unsure of who to trust and senior officers are acting suspiciously. This inspires them to work together and break the rules.
Dive is a fast paced and tense detective novel which creates an emotional hold on the reader.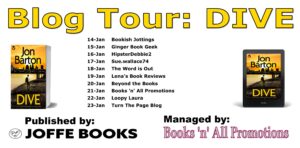 DIVE by Jon Barton
Dive into London's most dangerous crime scene — the River Thames.
A police diver whose obsession with the job has made his home life implode.
A high-flying detective recently thrown out of the CID.
A case that could get them both killed.
Police diver David Cade lives by a simple rule: pull out the bodies and move on. Naomi can't abide that. Her whole career, she's wanted to fight the good fight. But circumstances have sent Naomi to the Marine Police.
Then they discover a dead girl, bloated and broken on the surface of the Thames. And then another.
Each time David pulls a new body out of the water, he fears it's his estranged fifteen-year-old daughter Lex. She's gone missing after they had a fierce argument and hasn't been in touch since.
The dead girls all have the same nightclub stamp on the backs of their hands — the same one David's daughter had the day she disappeared.
A briefcase is discovered in the same stretch of water, and suddenly the higher-ups at CID, including Naomi's rival, Detective Chief Inspector Shannon Baines, start showing an interest.
Clearly something big is happening.
David and Naomi must work together if they're going to solve the dead girls' murders and find Lex. Then they uncover something that will threaten to blow the case apart — if it doesn't get them killed first . . .
MEET THE DETECTIVES
David Cade is an experienced frogman, satisfied to lose himself in diving in the river. But his obsession with the job has caused his home life to implode. He wants to be part of his daughter's life, if only he could figure out how.
Naomi Harding is held accountable after three of her colleagues are killed during a raid she was leading. Her punishment is to be side-lined to the Marine Policing Unit, or 'frogmen', whose main aim is to dredge up dead bodies from the Thames and pass them on to the 'real' police.
JON BARTON
Jon Barton is a London-based screenwriter with ten years' experience as a dramatist, writing continuing drama for the BBC, and new work for young people. His theatre work has been produced onstage at major London venues, including The Old Vic and The Almeida, with screen work under option at Northern Ireland Screen and Netflix UK. An experienced creative writing tutor and freelance editor, Jon works as a copywriter, edits for The Literary Consultancy, and teaches for City Academy and Iconic Steps. When he's not writing crime fiction, he's running, walking, and bingeing podcasts.
BOOKS BY JON BARTON
FOLLOW JON ON