Dr Anna Jones is a confident heart surgeon. But her life changes forever when her son is kidnapped and she is told to kill a patient in order to free him. Can she put her morals to one side to save her son?
Do No Harm is a medical thriller set in the UK.
Anna has been through a rough break up and lives with anxiety and mum guilt. She frequently feels like her career gets in the way of spenidng time with her son. Now Zack's life is in danger from a terrifying gang and Anna is forced to confront the idea of losing him forever if she doesn't give in to their demands. How will she cope if she kills a patient yet she knows the gang are serious as they murder her friend and neighbour Paula…
The book is written from the first person perspectives of Anna and also Margot, a pregnant nurse with spiralling debts who is thieving from her colleagues, and Rachel, the police officer in charge of Paula's murder case. This allows us a greater depth of understanding about their emotions and the reasoning behind their decisions.
The premise of the book taps into all of our worst fears. Our natural desire to protect those we love, particularly our children, and it made me wonder how far I would go to save them. Added to this is the tension and pressure of hospitals, the fear of not waking up from an operation and of being vulnerable. The book is fast paced and the change of perspective maintained the momentum.
Do No Harm is a dramatic and tense medical thriller.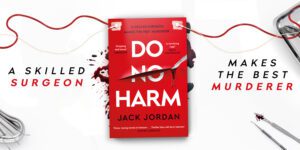 Book blurb
My son has been taken. And I've been given a choice…
Kill a patient on the operating table. Or never see him again.
The man lies on the table in front of me.
As a surgeon, it's my job to save him.
As a mother, I know I must kill him.
You might think that I'm a monster.
But there really is only one choice.
I must get away with murder.
Or I will never see my son again.
I'VE SAVED MANY LIVES.
WOULD YOU TRUST ME WITH YOURS?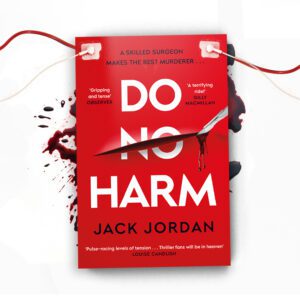 ABOUT THE AUTHOR:
JACK JORDAN:
@JackJordanBooks  (twitter)
jackjordan_author (IG)
SIMON & SCHUSTER:
@SimonSchusterUK (twitter)
Simonschusteruk (IG)