A 6 week old baby is kidnapped from his wealthy family: can FBI agent Max Carter return the boy safely? What is the motive for the abduction: the intricate family relationships or a dodgy financial deal?
I'll be completely honest: Gone In Seconds book took me a while to get into. There are lots of links to the previous book in the series which I have not read and I felt this detracted from the plot of this novel. If you have read the previous book, then I'm sure the continuation of the plotline would be much more enjoyable.
About a third of the way in, I was hooked as the abduction plot takes on a personal edge. The characters seemed to develop especially Carter and the kidnapper (no spoilers from me!) The sympathy of the reader is inspired by these two characters which gives the plot a greater depth than appeared at the start of the book.
I liked Carter's character: he is determined and dedicated. But he also has issues with his father who abducted him as a child which had led him into this FBI specialty.
The action is fast paced and delivered in short chapters to move the plot along quickly. The revelations are chilling and shocking, made even more so by the personal connections between the characters. The ending was extremely dramatic with the resolution of the kidnappping as well as tying up loose ends from book one. Meanwhile, the epilogue sets up Carter's next dilemma…
Overll this was an enjoyable crime thriller but I would recommend reading the first in the series before reading Gone In Seconds.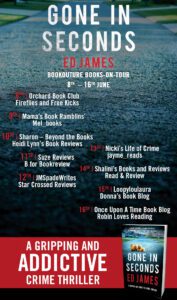 Media Kit:
Title: Gone in Seconds
Publication Day –  Ebook: June 12th 2020 / PB out now!
Author:  Ed James
Buy  Links:
Description:
A baby missing. A family in pieces. A shocking secret that can't be told.
Landon and Jennifer Bartlett have everything—money, influence and a picture-perfect family. But it means nothing when their lives are torn apart the day someone breaks into their plush mansion and takes their newborn child right from his cot.
FBI Agent Max Carter investigates child abduction cases. He has a reputation for working all hours to find every missing child on his watch—after all, he was once one himself. When he visits the Bartletts' sprawling home in an exclusive estate in the suburbs of Seattle, he's immediately suspicious of Landon Bartlett and his brother.
As Carter delves deeper into the lives of the brothers, he finds a web of dubious business deals and lies that could cost the Bartlett's their entire family fortune. And it's clear they will do anything to keep their secrets—but would they withhold vital information that could lead him to baby Ky's kidnapper?
As Carter begins a cat-and-mouse game with the kidnapper, he receives some startling news from home, which stops him in his tracks. And when a young woman is spotted boarding a bus out of town with a baby fitting Ky's description, he must decide whether to risk everything to find the missing child or save his own family.
Fans of Kendra Elliot, Melinda Leigh and Robert Dugoni will love this heart-pumping, pulse-racing crime thriller from bestselling author Ed James.

Author Bio:
Ed James is the author of multiple series of crime novels.
The bestselling DI Simon Fenchurch series is set in East London and published by Thomas & Mercer.
The self-published Scott Cullen series of Scottish police procedurals features a young Edinburgh Detective Constable investigating crimes from the bottom rung of the career ladder he's desperate to climb. The first book, "Ghost in the Machine", has been downloaded over 400,000 times, hitting both the Amazon UK & US top five.
The Craig Hunter books is a sister series to the Cullen novels, with a PTSD-suffering ex-squaddie now working as a cop investigating sexual abuse cases. With lots of slapstick and banter.
Ed lives in East Lothian, Scotland and writes full-time, but used to work in IT project management, where he filled his weekly commute to London by literally writing on planes, trains and automobiles.
SOCIAL MEDIA: