Nia travels to the Isle of Wight to housesit for her aunt. She moves into a close knit community but notices that the perfect neighbourhood is based on secrets…
Good Neighbours is a psychological thriller set on the Isle of Wight.
The book starts with the creation of a voodoo doll which sets the sinister tone for the plot. Nia's aunt has had to go abroad suddenly and asked her to housesit. We are introduced to Nia and I felt immediately unsettled by her descriptions of how she behaves and dresses to appease her husband. I had the uncomfortable feeling that she was hiding something about her relationship and I was right!
The neighbours all seem very friendly, perhaps TOO friendly, and Nia starts to suspect that there are secrets. Then someone is found dead and the dark undercurrents become more prominent. The supernatural element of the voodoo doll and the religious cult that features add an extra dimension to the plot and the uneasy atmosphere.
I really liked Nia's character and enjoyed seeing her emerge from her husband's shadow as the book progressed. She grows in confidence and this allows her to investigate the death of her friend even though she could be putting herself in danger.
Good Neighbours is an entertaining and atmospheric psychological thriller.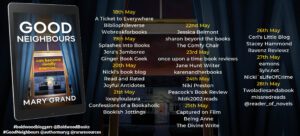 Good Neighbours
It was meant to be a safe place to start again…
In need of an escape from her failing marriage, Nia agrees to house-sit her aunt's cottage on the Isle of Wight. She feels sure the cosy close in a quaint harbour town will be a safe place to hide and figure out what to do next.
But things are not all as they seem in the close, and the neighbours who welcome her with open arms, are keeping secrets. When Nia finds the body of one of her new friends lying on the beach, she feels sickeningly sure that the killer is dangerously near to home.
Who killed her friend and why did she have to die? And if Nia discovers the answers she's looking for, is she next on their hit list? Good neighbours may become good friends, but they can also make deadly enemies…

Author Bio –
Mary Grand is the author of five novels and writes gripping, page-turning suspense,
with a dark and often murderous underside. She grew up in Wales, was for many years
a teacher of deaf children and now lives on the Isle of Wight where her novel,
The House Party, which was published by Boldwood in July 2020, is set.

Social Media Links –