Dave Kane loses his memory. He can't remember anything about the last 4 years or his relationship with Jenna. But his instincts remain as good as ever as another serial killer stalks Black Rock Falls…
Her Bleeding Heart is the 16th Kane and Alton book but could be read as a standalone (you'll want to read them all though!)
The past has huge relevance and is explained fully yet concisely at the beginning of the book as Kane deals with amnesia and has forgotten the last 4 years. Jenna is heartbroken that he doesn't remember her but needs to put the new murder case first. Poppy's character continues to cause trouble for the main pair, adding another dimension to the personal side of the plot.
We see the killer from the very beginning, and then sporadically through the book as he meets wealthy women and lures them to their deaths. This is sinister and the impending danger is gripping to read. I wanted to shout at the women to stay safe!
The pace is as fast as ever as Kane and Alton overcome obstacles and peril to catch a devious killer. Once again the landscape and weather play a key role in the plot and are vividly described. In recent books, the author has started to leave loose ends which make fans eager for the next book!
Her Bleeding Heart is another gripping instalment to the series.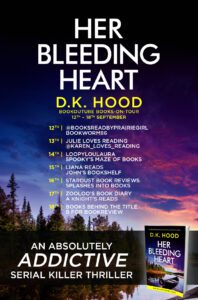 MEDIA PACK
Book: HER BLEEDING HEART
Author: D.K. Hood 
Pub Day: SEPT 12TH 2022 
Buy Links: 
About the book: 
Rain soaks her clothes as she runs from the large, isolated family home and hides behind the beaten-up pickup truck parked out front. Miles from safety, her heart thuds as footsteps draw closer. He's found her…
The rain has been falling for weeks when Black Rock Falls Sheriff, 
Jenna Alton

, receives a panicked phone call from a local forest ranger. The lifeless body of a woman has washed up on the banks of a swollen river.
Rushing to the scene, Jenna and her deputy, 
David Kane

, find the young girl laying face up in the dirt, her long brown hair spilling out around her, her perfect pale skin showing no signs of struggle. Leaning in for a closer look, she finds a jack of hearts playing card tucked into the girl's underwear. This was no accident—someone killed this innocent soul, and left a twisted calling card…
Days later, another young woman is found slumped in the back of car at a local truck stop on the outskirts of town, angry red marks around her neck. Jenna's head spins when she finds a second playing card in her clothing. Is this killer escalating? And does he have a next victim already in his sights?
As a landslide shuts the town off from the outside world, Jenna and her team battle raging storms in their search for answers. Jenna is convinced the playing cards link these victims to a twisted serial killer the FBI have been hunting for over a decade. If she's right, she's chasing America's most dangerous and elusive killer. Can she catch him before Black Rock Falls loses another innocent young life?
If you're a fan of Lisa Regan, Melinda Leigh and Kendra Elliot you will be hooked by this gripping and addictive crime thriller from 
USA Today
 bestselling author D.K. Hood.
**Each Kane and Alton book can be read as part of the series or as a standalone**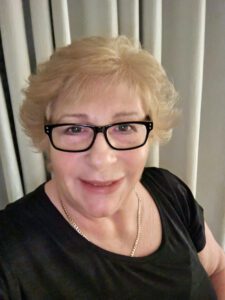 Author Bio
D.K. Hood is THE WALL STREET JOURNAL, USA TODAY and AMAZON bestselling author of the Detective Kane and Alton Series. Her spine chilling, fast-paced serial killer thrillers revolve around Sheriff Jenna Alton and her ex-special forces Deputy, Dave Kane. As the main characters fight crime, their secret pasts are never far away. Set in and around the fictional backwoods town of Black Rock Falls, Montana, known locally as Serial Killer Central, D.K.'s imagery takes the reader into the scenes with her. Given the title "Queen of Suspense" by her reviewers, D.K.'s writing style offers her readers a movie style, sizzling fast thrill ride.
Social Media Links