Katie's fiance Chad has been missing for a month and she is frantic. Her colleagues distract her with a serial killer case but could there be a connection with Chad's disappearance?
Her Dying Kiss is the 10th book to feature Katie Scott, her K9 companion Cisco and the rest of the police team.
Katie is distraught when Chad disappears, leaving behind a blood splash. She has tracked down every lead but they have all come to nothing and now she is sat at home wallowing in self pity and fear. Her boss (and uncle) convinces her to join the search for a copycat serial killer but one clue relates to Chad.
The case is intensely personal for Katie as she frets about her lover. Her serial killer case is complex as she finds links between a killer in prison and the new murders. She is ably assisted by her partner McGaven and her old military mentor and his dog are on hand to help with Chad's disappearance.
There is plenty of forensic detail about the bodies but it is handled in an objective and scientific way which defuses the graphic content. The emotion comes from Katie's personal involvement and her fears about Chad's safety. She finds the lack of clues frustrating and demoralising especially given her occupation and success rate! Once again, Katie is put into extreme danger and the action sequences are tense and dramatic.
Her Dying Kiss is a tense and exciting thriller with a personal edge.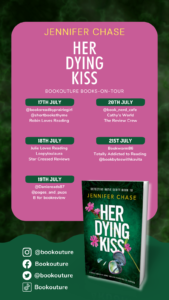 Book Description:
She wakes to the dawn light streaming through the window and rolls over to whisper good morning to her fiancé. But panic floods her veins. His side of the bed is empty and cold. Blood trails towards the open door. All trace of him is gone…
It's been one month since Detective Katie Scott's fiancé, Chad, went missing without a trace. Devastated Katie is still working tirelessly day and night to track down the love of her life, barely sleeping and chasing every new lead. But now the case has gone cold.
When the body of beautiful Gina Hartfield is discovered among the pine needles in a clearing on Lookout Ridge, Katie swallows her own pain and knows she must focus on finding Gina's killer. The young woman was found with a pink velvet blindfold shading the hollows where her eyes had been removed. Katie is certain she is chasing a sadistic individual who will soon take another life…
But the autopsy reveals Gina's body was washed before being abandoned, leaving no trace of evidence behind. And with no witnesses to Gina's disappearance, the women of Pine Valley are terrified to go out alone.
Desperately combing the crime scene, when Katie sees a newspaper article about her previous cases pinned to a nearby tree, she is certain Gina's murder is personal. Then tire tracks found in the forest are matched to a truck seen following Chad in the days leading up to his disappearance. Katie's blood runs cold.
Is there a link between Chad's disappearance and Gina's brutal murder, or is the killer playing a twisted game with Katie? Can she find out the truth before they take another life?
A totally gripping serial killer thriller for fans of Lisa Regan, Rachel Caine and Melinda Leigh. Prepare to stay up all night with this nail-biting rollercoaster ride from USA Today and Amazon bestseller Jennifer Chase!

Author Bio:
Jennifer Chase is a multi award-winning and best-selling crime fiction author, as well as a consulting criminologist. Jennifer holds a bachelor degree in police forensics and a master's degree in criminology & criminal justice. These academic pursuits developed out of her curiosity about the criminal mind as well as from her own experience with a violent psychopath, providing Jennifer with deep personal investment in every story she tells.
In addition, she holds certifications in serial crime and criminal profiling. She is an affiliate member of the International Association of Forensic Criminologists, and member of the International Thriller Writers.
https://www.instagram.com/jenchaseauthor/
https://twitter.com/JChaseNovelist
Sign up to be the first to hear about new releases from Jennifer Chase here: https://geni.us/B097H5XLDVsocial
Buy Link:
You can sign up for all the best Bookouture deals you'll love at: http://ow.ly/Fkiz30lnzdo