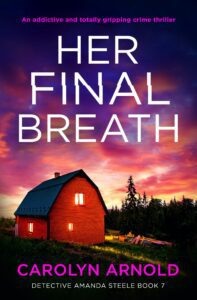 TRIGGER WARNING: domestic abuse
Detective Amanda Steele has an early morning call to a local park where a woman's body has been found in a shallow grave. The case becomes even more sinister when a child's body is discovered too…
Her Final Breath is the 7th book to feature Detective Amanda Steele and her team. There are personal plot lines that have threaded through the series but there are no spoilers about the crimes and killers.
The book begins with a woman and girl being held hostage. This instantly creates a tension which is then followed up by the discovery of a woman and child's bodies. Amanda and her partner are keen to get on with the investigation but find themselves thwarted by procedure. Their prime suspect is the husband who has obviously been abusing his wife but he is also a cop.
The writing is tense and the pace is rapid. There are some twists and I had no idea who was responsible for the deaths. The chapters showing Leanne and Gracie's perspectives were effective for making us desperate for them to get free.
Amanda's personal life provides another tense thread as she remembers the kiss with Trent and she feels guilty about working late and the effect on her adopted daughter. Meanwhile Trent is precoccupied with the domestic abuse angle and his own aunt's experience.
Her Final Breath is a fast paced and engaging detective thriller.

MEDIA PACK
Book: HER FINAL BREATH
Author: Carolyn Arnold 
Pub Day: FEB 17TH 2023
Buy Link(s):
About the Book: 
Faint sunlight dapples the two figures lying on the ground. The mother cradles her daughter close to her side, a stuffed toy elephant next to them. Leaves from the tall trees fall onto their faces, but neither moves to brush them off.
When a dog walker in a local Virginia park finds the bodies of a mother and daughter, 
Detective Amanda Steele

 is first on the scene. Her own daughter has a toy just like the girl's elephant and seeing the child like this is her worst nightmare come true. Heartbroken, she vows to get justice.
They quickly get an ID-Jill Archer and six-year-old Charlotte were reported missing last week, but interviewing Jill's husband, Roy, Amanda's gut tells her he is hiding something. When the autopsy reveals a terrible pattern of bruises, she's certain that a domestic argument escalated out of control, and tiny Charlotte got caught in the crossfire. But just as Amanda is about to arrest Roy, another grave is found, containing another mother and daughter.
Desperate for a lead, she goes to every place the women could have been targeted, and learns from a concerned ER nurse about Leanne Reilly and her young daughter, Gracie, who haven't been heard from in a week. Amanda hopes that Leanne has simply left her deadbeat husband, but she's gripped by the fear that they are the killer's latest victims. Now every second counts for Amanda to find the family and stop a little girl's nightmare before it ends in tragedy…
A totally compulsive and gripping crime thriller. The next unputdownable read for fans of Angela Marsons, Robert Dugoni and Rachel Caine.
Author Bio
CAROLYN ARNOLD is an international bestselling and award-winning author, as well as a speaker, teacher, and inspirational mentor. She has several continuing fiction series and has many published books. Her genre diversity offers her readers everything from police procedurals, hard-boiled mysteries, and thrillers to action adventures. Her crime fiction series have been praised by those in law enforcement as being accurate and entertaining. This led to her adopting the trademark: POLICE PROCEDURALS RESPECTED BY LAW ENFORCEMENT™.
Carolyn was born in a small town and enjoys spending time outdoors, but she also loves the lights of a big city. Grounded by her roots and lifted by her dreams, her overactive imagination insists that she tell her stories. Her intention is to touch the hearts of millions with her books, to entertain, inspire, and empower.
She currently lives near London, Ontario, Canada with her husband and two beagles.
Social Media