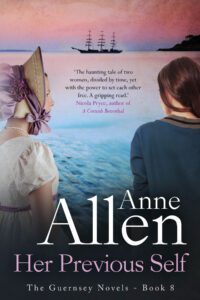 TRIGGER WARNING: this book contains cot death and domestic abuse.
Lucy Stewart moves back to Guernsey following the breakdown of her marriage after her daughter's tragic death. Her parents abandon her to go on a cruise, leaving Lucy in charge of her elderly grandfather. But she is haunted by a woman's portrait in her bedroom and finds herself drawn back in time. She witnesses Mary's unhappy life and mysterious disappearance…
Her Previous Self is the eighth book in the Guernsey series by Anne Allen but is the first that I have read. I believe there are some characters that appeared in earlier books as well as references to events in previous plotlines but no major spoilers.
Lucy has been through her own share of heartache in the last year. Now she finds herself emotionally drawn to the sadness of one of her ancestors. I was a little unclear as to whether Mary was reincarnated as Lucy or merely reaching out her spirit to another filled with grief.
There are some unpleasant scenes in the past as Mary is beaten, raped and generally mistreated by her husband. I found that I wanted to hear more of Mary's story in the last third of the book as her story is subsumed by Lucy's life which fills with hope as she gets another chance at happiness.
This is an emotionally charged book as Lucy and Mary strive to cope with their lot in life. Love and grief radiate through the pages as their lives intermingle. I felt almost angry with Lucy for focusing on moving forward in her own life in the later parts of the book when Mary was desperate to have her story revealed. I think it is a good sign when you care about the characters!
Her Previous Self is an engaging and interesting combination of historical and contemporary fiction.
Her Previous Self book blurb
Two women, living two hundred years apart but closer than sisters.
Mary, miserable in her  marriage to Thomas Carre, a merchant and privateer and living in the newly-built family mansion in Georgian Guernsey.
Lucy, separated from her husband after a tragic loss and now acting as an unwilling sitter for her elderly grandfather, Gregory Carre, who has inherited the same mansion.
Lucy is haunted by Mary's continued presence in the house and finds herself being pulled more and more back in time. How is it possible for her to live as Mary? To experience scenes from her tragic life? Lucy is forced to come to terms with Mary's grief as well as her own.
The more enmeshed she becomes the more anxious Lucy is to discover the truth. Why is Mary still restless? What caused her mysterious disappearance two hundred years ago?
And can Lucy move on from her own loss to find happiness again?
Purchase Links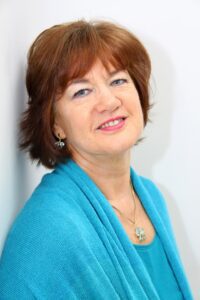 Author Bio –  Anne Allen lives in Devon but originates from Rugby. Finding early on in life that she loved the sea she spent most of her adult years moving from one coast to another. Her happiest time was spent in Guernsey where she lived for nearly 14 years and her books are all set on that beautiful island. Until recently Anne was a psychotherapist but has now retired to write full time. So far she has published Dangerous Waters, Finding Mother, Guernsey Retreat, The Family Divided, Echoes of Time, The Betrayal, The Inheritance and Her Previous Self, forming the Guernsey Novels series. The books focus on love, mystery, drama and relationships. In her spare time she dabbles in art and very occasionally housework.

Giveaway to Win 1 x Paperback Copy of Her Previous Self (UK winner) or e-copy for an international winner.
*Terms and Conditions –Worldwide entries welcome.  Please enter using the Rafflecopter box below.  The winner will be selected at random via Rafflecopter from all valid entries and will be notified by Twitter and/or email. If no response is received within 7 days then Rachel's Random Resources reserves the right to select an alternative winner. Open to all entrants aged 18 or over.  Any personal data given as part of the competition entry is used for this purpose only and will not be shared with third parties, with the exception of the winners' information. This will passed to the giveaway organiser and used only for fulfilment of the prize, after which time Rachel's Random Resources will delete the data.  I am not responsible for despatch or delivery of the prize.